Cuz I can, and it's fun.
Happy Anniversary of the patent of the Hula Hoop Day!!! (Yes, we can thank MOSTMOM1 for that info)
Work Out With Chubbs & Pudding:
www.sparkpeople.com/mypa
ge_public_journal_individu
al.asp?blog_id=4770893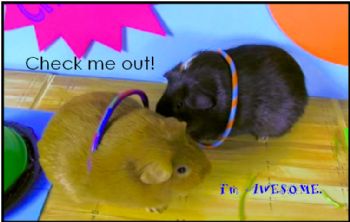 So, while we wait for upload I can tell ya what I wanted to do...
Hee hee
I wanted to wrap Sarah (4) up in bandages and video her saying, "I need a Guinea Pig the kitty is not so cooperative." ALL children seem to NEED a Guinea Pig after watching a MOSTMOM1 video.
They have helped with animal science...
"Mom do Guinea Pigs really talk like that?"
"No Hunny, MOSTMOM1 likes to mess with their voices with her video editing software." (Sounds educational, right?)
"In real life they have deep, sexy, latino accented voices...kinda like the rappers PitBull or FloRida (well his is just deep, but, you know). Any other questions?"
I was going to video Gigantor while I asked him his opinion on the Pigs hooping skillz. I can bank on it that he'd cock his right eyebrow and give me a look of tolerance which can be translated into,
"Oh Sweet-baby-jeebus-make-my-cook
y-mother-go-away".
Which would be the PERFECT look I need him to make in order for me to post this caption over his head during editing,
"My Fair Audrey's skills are far superior...." and do some blurring on the edging of the video and add some romantic music...
However, I fear Spock (the future arranged marriage father in law). Sometimes it's like he sits on my shoulder and he and my Diva wrestle it out...his imaginary, Jiminey-Cricket-Creepy-Spock-A
ngel-Dude thing beats up my mischief making Diva. No worries, she's full of spunk...