Hello all!
It's been a while since I've posted, and quite frankly, it's been a while since I've been active on SP. I still log on daily and I have attempted to track my food, but it hasn't worked out so well for me.
As of late, I've been busy with the flu & surgery. Both of these things have led to a lackluster/lazy past few weeks.
I had a 21-day fitness streak going and now I am forced to start over. But that's okay. Because now I don't have a surgery to dread and I think winter is on the down-hill slope so I'm hoping I don't get sick again.
My short-term (immediate) goals are still the same;
Limiting alcohol
Tracking meals
Exercising at least 10 minutes a day
My long-term goals are:
Lower blood pressure/resting heart rate
Get lean!
Run a 5k in May
Lose 10 pounds by the end of April
I think these are sustainable goals. I'm on the medication Metformin to help manage the symptoms of my PCOS and you are not supposed to drink alcohol with that (it overloads the liver). I've done pretty well on that front, but I still have some work to do there.
I'm still a little sore from the surgery (there were just two small incisions in my abdomen) but I'm getting back to the gym today. I'll probably take it a little easy, but I want to get back there.
Today I turned 24. One more year until I'm closer to 30 than I am to 20 (OY!). I'm GOING to make 24 a great year for me! I'm going to stay positive and focus on the good things that are happening in my life (even when it's easier to focus on the bad). I think remaining positive will turn everything around. It's the key to weight loss success and sustaining a healthy lifestyle!
Okay. So it starts today! I know I'll have ups and downs. But I HAVE to turn things around!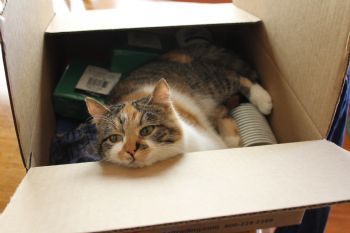 (our new kitty, Lucy)
-Mal