Monday, March 05, 2012
I recently heard a great idea to motivate yourself while you're losing weight. Take two clear jars (you can use vases or clear plastic containers). Label one of the jars "Pounds Lost," and the other one "Pounds to Lose" or "Pounds to Go." Put marbles, glass "blobs" (the kind used in flower decorating), or whatever suits your fancy in the jars. You can one of those marbles (or whatever you're using) to represent 1 pound; if you want to be more specific, and if you use something smaller, such as dried beans, have one item represent 1/10 of a pound. As you lose weight, move the marbles/glass blobs/beans (etc.) from one jar to the other. This is one idea to really visualize how you're doing. It's also very motivating to move the items from the "Pounds to Lose" jar into the "Pounds Lost" jar. If you choose to use a smaller item (such as dried beans), if, for example, you lose 2.4 pounds, you get to move 24 beans into the "Pounds Lost" jar. That sounds like a fantastic idea to me!
BTW, this idea is adapted from the same basic idea you can find all over the internet; if you use the search term weight loss jars, you can see some examples of what others have done and how they use the system. Here's just one example that I found at http://pinterest.com/pin/48061
920993093497/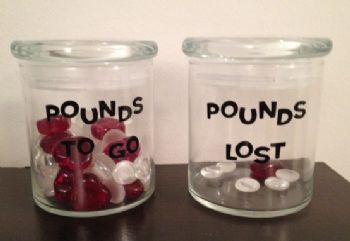 She used red ones; she puts one in the jar for every 5 pounds lost.
I think I just might use this system! I think I would use something to use for each tenth of a pound, though. I like the idea of moving lots of them from the "Pounds to Go" jar into the "Pounds Lost" jar!