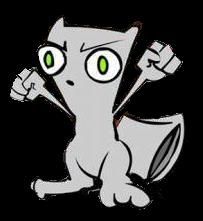 So Ö for many months, due to crazy life issues of one happy kind or another, Iíve not been tracking (Wait! Donít jump in and chastise me! I will do that for you in just a second). And of course my weight was creeping back up, but I had this handy excuse of hypothyroidism (Again Ö I see youíre just about to crawl out of your skin wanting to whip me Ė I promise I will self flagellate!). And it HAD to be the hypothyroidism now, didnít it? I mean Ė after all, I follow a vegan diet (except when eating out or when someone else prepares a meal for me, I donít get all ninja over whether thereís an egg in the bread or something. I sometimes settle for vegetarian when Iím out, but am vegan when Iím ďin.Ē) You really donít see many overweight vegans running around, and I wore that V-word like a magic cape around my shoulders.
But what I was wearing around my HIPS was gettingí a lil tight!
When I re-devote myself to tracking once again, the error of my ways becomes immediately clear Ö Iím Freaking NUTS!
Nuts. Pecans. Almonds. Walnuts. Cashews. THAT kinda Nutz.
Holy cow, I canít believe how Iíd come to rely on those little nuggets. They were like the little nuclear bombs and I was in the middle of a minefield. My uber-healthy Kashi Go Lean cereal in the morning? I threw in a couple-a tablespoons of toasted almonds. That shredded Brussels sprouts salad Iíve been making constantly that has to be off-the-charts salubrious? Mmmmmm: so much better with several pecans added. A little hungry at 2:30 in the afternoon? Why look: itís the Blue Diamond Habanero BBQ almonds Ė just a handful. Certainly donít want to eat refined sugar, but for dessert, you canít beat the raw vegan ďdonut holesĒ made from walnuts, almonds, spirulina and dates. And check it out: the vegan answer to cream? Is soaked and pureed cashews. Makes soups creamy, makes an enchilada sauce to die for, makes me Ö. FREAKINí NUTS!!!
Now Iím in nut withdrawal. Sheeeeesh. Itís always somethiní, isnít it?
But the moral of the story isnít that I need to banish nuts. Theyíre just too darn wonderful. Itís that I should never have stopped tracking in the first place. I could have easily SEEN that I was headed down the Pistachio Path. Across Walnut Way. Over to Pecan Parkway.
OK. Have at it. Say why youíre dyiní to say to me. I can take it. I already know Iím nuts.