Now that does sound like a good title for a fun little literary romp. But this ain't it. Sorry. It's been brought to you by my newest toy. A heart rate monitor. Yeah. Person who a couple of weeks ago considered exercise as a dirty word, is strapping on a weird thing on her chest to get a more accurate measure of 'work-outs'. (As they're commonly called. To me, they're just playing the game though.)
I do wonder though...
Those straps, they seem to always be shown on bare chested males. In images like this: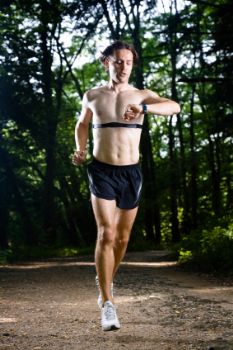 And while I ain't exactly of the well endowed persuasion... So it seems to be little interference in the chest strap, boobies, bra - equation.
I can't help but wonder who the girls in the 'holy bazooonka' category of upper chest build do manage to puzzle that together.
I leave you with that mental image to go into the boring bits of this post.
Last week looked like this:
Sunday
Calories: 1177 / Exercise: 1005
Monday
Calories: 1143 / Exercise: 274
Tuesday
Calories: 887 / Exercise: 1187
Wednesday
Calories: 1193 / Exercise: 1645
Thursday
Calories: 1280 / Exercise: 674
Friday
Calories: 1512 / Exercise: 522
Saturday
Calories: 1534 / Exercise: 786
Adding up to 6093 calories expended on an average intake of 1245 calories / day.
Now if that was any of you guys... I'd probably be the first to say, girl you need to up your calories to compensate for the increased exercise.
But, that's easier to tell to someone else than to do yourself.
Hence HRM. Someone suggested that the SP calories burned equations are 'MASSIVELY over stated'. At least for the elliptical. And the general advice was get a HRM to get better numbers.
Now I didn't have any intention to throw away money on exercise equipment. I'm not one of the spandex people.
But I *might* have gone googling a bit to see just how much money I wasn't throwing away.
As I was doing so, the partner took a break from SWTOR to peek over my shoulder at what I was looking at. Then made a comment that if I wanted a HRM, I should go dig at the back of the cupboard over the linen cabinet.
And indeed, there one was. Still in its packaging, never used.
Seems like he got one as a freebie some place at some time and thrown it in there among the other useless junk stuff in that cupboard.
Now I have a HRM. How about that.
Of course I had to try it. Wouldn't you? So fire up the game, turn on hardcore mode and out I headed...
54 minutes, and 4.96 km later...
54 minutes walk at a pace of 13 mins / km in sparkpeople fitness tracker = 314 calories burned.
HRM says 595 calories burned for the same game session. (and a load of other things, like average HR 74%, max 88%, min 51%, end 71%, and makes the claim that I burned 62grams of fat... more numbers than even I want to shake a stick at.)
Whaaa! Why aren't they the same, that would make my life much easier.
Whaaa! Number two. The numbers were supposed to go the other way. HRM telling me I had been burning less calories, not more, so I don't have the change my eating habits as much.
Whaaa! number three, that's 4 missions I've played outside, in hardcore mode, and still not a single random zombie chase. It's not fair! Friend had 2 zombie chases in her first mission.
I bet you when they do come, that mission will be like a zombie encounter even couple of minutes and I'll end up getting eaten.
So here's the plan for this week.
Use this gadget, get a more accurate estimation of calories burned getting chased by zombies, both in hardcore and wimp mode (aka on the elliptical).
Limit my Zombies, Run! playing to max. 2 missions a day, one of which have to be outside. If the weather turns horrid and I don't want to head out there. Tough bleep! Those days it's just one mission allowed. (two missions outside is A-OK though.)
In the mean time, until I know more of how many calories this game burns for me in a week. Aim for eating no less than 1400 calories a day. For reference, if we make a guess at 5000 calories burned next week - my calorie range goes to 1,880 - 2,230 which seems just bizzare. Dun wanna! I've gotten used to my 200 breakfast, 200 lunch, 400 dinner and 400 in assorted snacks.
No more skip lunch to play the game, and end up at under 900 calories for the day. Bad geekling!