This is the message I have written in dry erase on the glass on the door going into the gym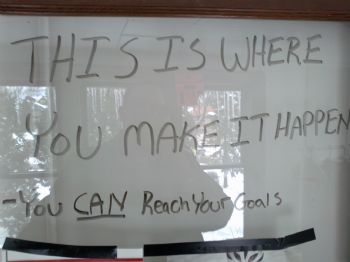 some pics taped under the message on the door - I'm a guy and I didn't have any duct tape at the time so I used electrical tape... the gym needed the "man's touch"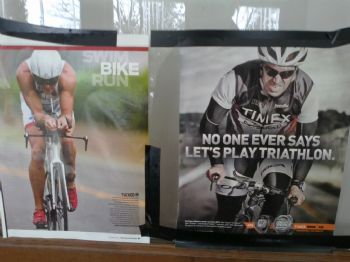 My Treadmill, BOSU, and stability ball..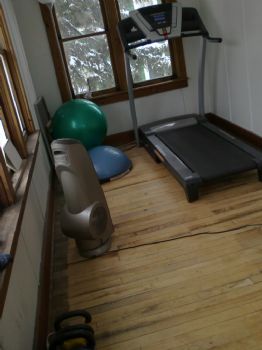 Bike set up as an indoor trainer.. Cycleops Magneto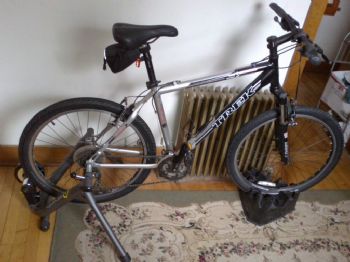 Kettlebells (25,20,10lbs), Speedweights (the dumbbells with multiple plates), and a couple of 35 pounders. The speedweights allow you to use just one weight but you can change the weight from 5 to 25 lbs. Major space saving idea there!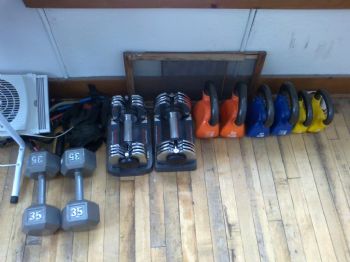 My WOD board (Workout Of the Day) - I set up my workout on the board and track what i do over several days in the left margin..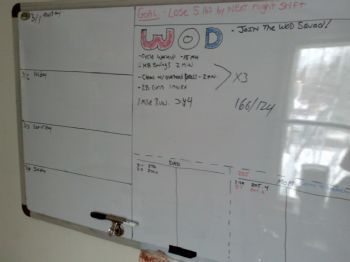 WOD board close up... it says "Join The WOD Squad"
-the time is the duration of the exercise and the >x3 means I do the complete circuit 3 times..it doesnt look like much but after the 3rd round...im about to cry uncle.
-Motivational pic taped at the bottom of WOD board - again with designer tape..
-part of my library, I have quite a few books out on loan right now...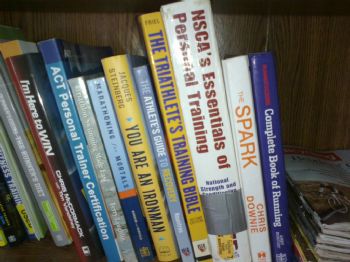 I basically study workout videos and then incorporate Crossfit intensity to it and it really has been producing some amazing results. I almost killed myself with a 20 lb kettlebell when I first started, now I just did a Crossfit workout with a 35 pounder without any trouble.
For those that have known me for a while know that I have had a serious mental block when it comes to strength training. Its almost like i was so cardio focused that I regarded ST almost as a waste of time. Basically I was going to put forth so much effort with minimal results and burn far fewer calories than I was currently at the time.
Boy was I wrong.
Regular ST was kinda mundane in my mind but once i started Crossfit, things changed. About the same time, I really got into the Kettlebells and between what I do at Crossfit and what I do at home with the Kettlebells, free weights and cardio on the bike and treadmill, I can really feel the difference and have gotten alot of compliments. My body has started changing in about 2-3 months of short but intense workouts on top of my typical cardio sessions.
My arms are starting to get cut, legs were already cut from all of the running. I can now handle doing 40 situps x3 without going into a spasm in my core. I am really starting to toughen up and it has been worth the effort.
The part that I noticed the most was I could do Crossfit style burpees without dying. I can now actually drop to the deck into a squat thrust then jump up into a jumping jack style overhead hand clap. That is so huge for me. I am really seeing some fitness gains and am looking forward to the day when I can do an unassisted pull up.
When I get the remaining 50 lbs off, I have a feeling this is going to turn out pretty good. It will reveal what i have been working on for so long but it has been buried. I guess it's cool to have somewhat of a physique but I am most interested in what that strength is going to do for me as I prep for endurance events. I can tell a difference in my treadmill 1 mile runs. With a stronger core, my running is far more efficient and I have reduced my mile time from 15 min mile to 12:30 without hardly any running at all. I couldn't run much due to my Plantar Fasciitis so the improvements could only come from one place....strength training.
I am hooked on Kettlebells, they are far from boring and it is the perfect blend of cardio, and real-world strength training rather than single muscle group isolation on a machine.
Also, I just got some TRX bands as well for suspension training.
Love it....