I know I promised a blog about my case study...but that's a long winded one, so here's a short one, because...I am blessed.
I really had a hard time last year. July to October was a real "crash" time for me. But I did take to heart some great and godly advice from some dear Spark Friends. I found a godly counselor and started in October. I have grown leaps and bounds. And through my lessons, new communications skills, accepting my feelings and past, I am learning to love me. And in loving me, I can accept my husband's love and compliments without a jaded hurt. I am learning to live in a consciousness that is free, full of laughter, feeling pretty and special, being me, being creative, being who God made me. I am seeing a glimpse of how wonderfully God sees ME. I am truly blessed!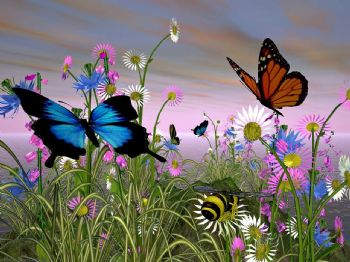 Today's search on the butterfly post absolutely blessed me and spoke about where I'm at and about speaking "the language of blessings and love":
First, you must RECOGNIZE all of your blessings. This happens in your mind. You recognize Godís voice of love as he speaks blessings into your life.
Second, you feel GRATITUDE for those blessings in your heart. Those blessings make the trip from your head to your heart, and now gratitude wells up inside. It feels good to know that each blessing is an expression of Godís love and care.
Third, you GIVE THANKS to God who has given you his special favor. This is the moment when you talk to God and thank him for all that heís done on your behalf.
Fourth, you PRAISE GOD for all your blessings. Praise is a reminder that God is the Source of all good things, and that there are no shortages in Godís kingdom of love. Praise refocuses your mind on Godís love and care. From http://positivebutterflies.com
/Rusty_Tipped_Page_2.htm
This is how to spend the day in wonderful moments!