"What will I look like in pics".... this is one of my new daily mantra's!!!

I just booked a trip to San Diego for June

!!!! I did travel nursing, so I lived there in 2003 and rave about it to my hubby, it's time for him to go!!!! It is our 6th wedding anniversary and the week my baby girl turns ONE!!!
SO, what will I look like in our first family pics/vacay photos?????????? I won't be at my goal, but I will do everything possible for the next 3.5 months to be pleased with my progress!
I plan to have a photographer take our first family pics on the beach!! WOOHOO!!!
(If any SD sparkies has photog suggestions please send me the info)






March Goals:
~ WATER WATER WATER 100 oz daily
~Stay in calorie range 6/7 days
~ Only eat out 2 meals each week
~ MOVE EVERDAY
***** stretch every night
*****continue half training Tues/ Wed/Thur/Sun for half on 3/25
*****Sit up/ Push up challenge 350/35 since I'm turning 35 this month!!!!
--- supposed to get an elliptical this weekend, if so adding the goal of 60 mins 5/7 days
105 days to go!!!! WOOHOOO!!!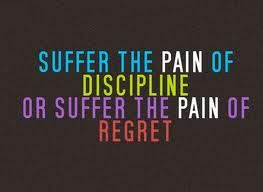 This is my new background for my sparkpage!!! I love it b/c it is so TRUE!!!
My goal is to lose 25 lbs by vacay time! I WILL SUFFER THOUGH DISCIPLINE :)!!!!! HEHE!

~Kimberly
March goals:
- 100 oz daily- /7
-Cal range 6 days-/7
-Eating out-/7
-stretch- /7
-13.1training- /4
-35challenge- /7