My theme for March is "Let's Get Physical" and here's a challenge for the Month of March. Please, consider leaping forward with me.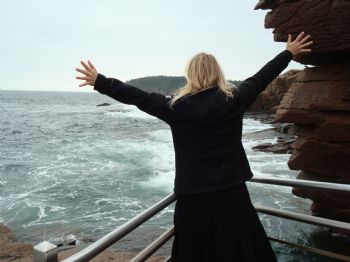 Picture taken at Thunder Hole at Acadia National park, ME last LABOR DAY.
March Forward Challenge
What is a Challenge? Checking out the Encarta dictionary here are the top four definitions:
1. Invitation to take part in a contest – an invitation to somebody to compete in a fight, contest or competition
2. Stimulating test of abilities – a test of somebody's abilities, or a situation that tests somebody's abilities in a stimulating way
3. Questioning of Something – a questioning of something by demanding an explanation, justification, or proof
4. Demand for identification – an order to stop and produce identification
The top two definitions are the obvious given the context of a challenge on SparkPeople but I really like the last two. These last two definitions answer the question "why participate in a challenge?" I normally participate in a challenge because I am questioning something either about myself or the activity. "Can I do it?", "Am I worthy" or the opposite "Is this activity worthy of me?" I want to prove something about myself. In many cases, I demand identification from myself. Who am I? It's an order to myself to stop and produce identification. Am I the type of person who does what I say I am going to do or not? Am I the type of person who enjoys this activity or not?
It's March 1st today. As many of you know, I like to choose a theme for the month and then pick out my goals in accordance with that theme. My theme for March is "Let's Get Physical" so I thought it would be great to do some sort of challenge for March that is physical as my goals of late have been more career and family-oriented. Spring is coming and this is the time of year where everybody wants to come out of winter hibernation and get moving. However, rather than a strict, all-or-nothing approach to exercise like do this exercise every day for 31 days, I'd like to up the ante in a different way. Let's still keep it physical, but let's challenge ourselves to March Forward through whatever roadblocks we have set up for ourselves. Demand identification of yourself, then put the pedal to the metal and charge through that gate!
So here's the challenge – whatever physical activity you have been procrastinating on trying or doing, do that activity for at least 10 minutes. It doesn't matter if that exercise DVD you keep saying you'll try Is 75 minutes long. Just do 10 minutes of it. That's more than you've done the day before, isn't it? You can choose the frequency for yourself – 10 minutes a day, every other day, once a week, once this month – only you know what is right for you, but whatever you decide, stick to it. For those of you who are very active already, perhaps this is the time to take that lesson or class you've been meaning to try, or maybe it's just a matter of switching up your routine to the morning instead, or perhaps add intervals or go to the next level.
I'm not a one-size-fits-all type of person and I can't bring myself to run a challenge that puts everyone in one box. I recognize that those challenges can be useful and might be easier to follow but to demand identification from ourselves, we all must take personal responsibility for ourselves to know what is right for our own individuality, yet at the same time find support in doing something in common, together.
So who am I, who are you? Will you join me in finding out? Here's the link to the challenge on the team Love to the Power of 10 -
www.sparkpeople.com/mysp
ark/team_messageboard_thre
ad.asp?board=22561x55310x46845708