To start, I should note that I'm God-awful at introductions. Be it from meeting people for the first time to research papers, I can just never get the hang of it. I'd love to reel you in with something cheeky or even interesting, but it's just not that easy. That being said...
Hi, my name is Jamie. And this is my first official blog post on SparkPeople, though I've been a member of this site for well over a year now. Why now am I finally deciding to start up this blog? Well, in order to answer that, I'll have to start with my recent incentives for writing and work my way to my long term goals and ideals.
I'm 24 years old--as of 2 days now, my birthday was on the 26th--and I opted to celebrate my birthday as I usually celebrate birthdays, holidays, weekends, PMS weeks, pre-diet months and occasional Wednesdays, by over-indulging. I had my celebrated on the 24th with dinner and drinks at my favorite bar/bistro, and like a good Catholic, managed to avoid eating meat (despite having the event blessed by a priest!) Ok, I'll admit there were a few bacon bits on the fries but hey, we had that blessing so it was acceptable! I also had a few beers, which I'm sure weren't the best calorically, but they tasted damn good! Overall, I had a pretty fantastic night with some great people in a great atmosphere, but that's not where it went downhill.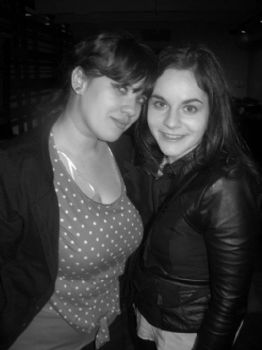 Me (on the left) and my best friend since first grade, Julia. I had an amazing time at my birthday party. But my mood was brought down when the pictures surfaced on facebook the next day. Something I'm quite used to: never wanting to see pictures of myself after an event for fear of how big I'll actually look.
Cut to Saturday, the 25th. I start off the morning with an egg bagel with butter. Not sure the nutritional info of that, but I'm sure it can't be all that great. But I figured hey, it's just breakfast, I'll live. Then lunch rolled around. Going back to that whole being a good Catholic, this year I decided to make a laundry list of things I'm giving up for Lent, including (but not limited to): soda, junk food, chocolate, McDonald's, (not that I eat it all that regularly, or even at all, really, it's just become a tradition between my mom and I, but that's another story) and my biggest hurdle: meat. Glorious, delicious, amazing meat. So, I scoured the TGI Friday's menu for the best looking, least fatty non-meat meal they have. I settled on a bowl of cheese and broccoli soup and a Caesar side salad. It was delicious, but still about 500-600 calories (from what I recall). For dinner I had cautiously (and impressively, I might add) enjoyed one slice of plain cheese pizza, avoiding any pepperoni slices along with a can of Brisk Iced Tea.
Then it was on to part two of my birthday celebrations, going to the Yonkers P.A.L. for the home opener of the Suburbia Roller Derby (
www.suburbiarolle
rderby.com
), Suburban Brawl vs. the Hellions of Troy (Suburban Brawl won, woo!). Despite having awesome sideline seats that came with lovely roller derby gals skating your drink and food orders over to you, I behaved and only opted to order a bottle of water. Then I got home, snuggled up under the covers, watched an episode of "Too Cute: Puppies" on Animal Planet and finally caved and had that second slice of pizza (still no meat though!).
Then it was Sunday the 26th, my birthday proper. Instead of glorifying anything, I'll give you the straight scoop on how much I allowed myself to gorge on: a 25-count box of assorted Munchkins and an iced coffee from Dunkin Donuts (no, I didn't eat them all myself, but that doesn't mean I'm not ashamed to admit the amount I did actually eat), baked raviolis for dinner from my favorite Italian restaurant (Mezza Luna in Eastchester), a few pieces of candies from a beautiful, big box of Lindt chocolate I received as a gift from my boyfriend (it's not his fault, he didn't know) and, as any good Catholic will tell you, I allowed myself even more because it was Sunday, the day where it's okay to cheat and have whatever it is you gave up for Lent (at least this is what my mother has always told me is okay to do--where this stipulation exists in the Vatican Council is up for debate) and I tried some chicken francaise and sausage (only 2 bites, I swear!). And to cap it all off, a nice, big slice of strawberry shortcake (because it's my birthday, dammit!).
Monday came and suffice to say, I wasn't feeling all that great. But, it's the start of a new week, a new age, close enough to a new month and a new outlook on life, right? ...Well, I decided a few weeks ago as a present to myself that I'd take a personal day off work for the day after my birthday. And it was a good call too, since the prior week was rather busy as well as being pretty sick. So it just seemed silly to start doing the whole healthy living thing on an off day, right? And so, a visit to Chipotle (I had an all veggie burrito, and barely ate the tortilla so it could have been worse!), the rest of my raviolis from the night before, more chocolate, and finishing off that cake were what followed.
If you managed to make it this far, I commend you and thank you for trudging through my babbling, but I assure you I plan for there to be more to this blog than just a list of my eating habits. What I'm getting out by detailing all of the events of this weekend is this: Clearly, it's time to get my head on straight and get back in the game. In addition to the realization that I make far too many excuses to eat unhealthy, be lazy and just completely neglect my body and its needs.
Just last week I finally fell victim to the cold that had been going around my workplace. I had been doing a pretty good job of keeping it at bay, but it finally got the best of me and kicked me right in the face. After a week of making excuses to not go to the gym and to not attend my Zumba class (but it's cold out! but I lost my Zumba card and clearly they can't just replace it!) I realized how negatively my body was reacting to it. One particularly bad night of being sick, I found myself unable to get to sleep because my legs kept cramping no matter what position I laid in. Curled up, stretched out, on my back, on my side, sitting up...nothing worked, they still hurt. After finally realizing I wasn't dying and it probably wasn't anything too serious, it occurred to me that my depriving my body of it's normal workout and succumbing to laziness was finally taking it's toll on my body. But alas, I was still sick, and I therefore still had an excuse not to get up and do something about it.
My New Year's Resolution this year is to do whatever I can to make the most out of every day. That means eating healthy and doing the appropriate amount of exercise to give me enough energy to keep me up and at it every day. My goal is to feel well rested every morning, be as productive as possible at work, then come home without feeling the need to just pass out, and instead spend my time on me, accomplishing my own personal tasks and indulging in my own, healthy and fun likes and endeavors. It shouldn't be that hard--I even got my own gym membership and signed up for Zumba classes--but it's just a matter of not making excuses.
And that is why I'm here. I've spent enough time lurking and falling behind on updating my nutrition and fitness trackers. I've realized that sometimes the best way to stay on track is to get it in writing. After a few months of reading the inspiring story of Sheryl Yvette (
www.sherylyvette.
com
), it's really hit me that in order to really move forward, it helps to have a community, friend or loved one there to give you support each step of the way. (Seriously check out her site or her Weight Watchers blog, you won't regret it--and she's got great style to boot!) Even if this blog were to go unread, seeing it written can help me to not lose sight of my goals. And, ultimately, if it helps someone else in the same boat as myself, that's a reward even better than any pound shed.
I was also inspired to start this up after reading some of the awesome recipes on
me-myself-and-pie
.blogspot.com/
. After realizing all of the delicious possibilities there are out there without meat, it gives me the strength to know that I can, in fact, give up meat if I just tried. I am planning on only trying this for Lent, as I don't see myself giving up my love of meat for good, but baby steps. There's no telling what the future will hold.
So, what am I planning on doing now? What are my goals? How will this blog help? I should note that I'm not here to try out any crash diets or any overly vigorous exercise regimens. I'm just here to eat in a way that satisfies my cravings and keeps me healthy. I'm not looking to completely change who I am. I just intend on losing enough weight to make me feel happy with how I look in the mirror and in pictures (yes, even pictures OTHER people take), to not feel out of breath nor for my feet to hurt terribly after a semi-long walk. I just want to be a size where I can love and embrace my curves without feeling anxious or depressed over every lump, fold or stretch mark. Right now, I am 5'5 and I weigh somewhere between 180-185 lbs. My realistic and ideal goal weight is somewhere around 150 lbs. I'm sure that's probably still considered "overweight" by some standards, hell, probably even "obese," but I'm not looking to conform to any beauty standards set by magazines or "doctors" who know nothing about my body or my health. I'm aiming for a weigh I know I'll be healthy, and overall, happy about.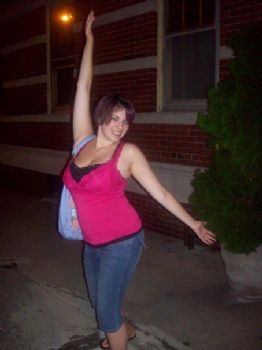 Me, being silly in the summer of 2007. I was by no means "skinny," but still considerably thinner than I am now. Even back then I would look at pictures of myself with disgust. But now I aim to look more like I did at that time.
I am by no means a doctor or a licensed professional, so please take caution when following along with any dietary or workout choices I make. What works for me or does not work for me are by no means indicative of what will work for others. But that's what this blog is for, finding out what is the best for myself, by my own means. And I feel that the best place to share my experience is with a community--and what better community than SparkPeople?
I'm an average girl looking to do what I can to be healthy and happy. I'm liable to make mistakes--but know that every mistake, pitfall, goof and slip up will be shared here. Why? Because I'm human, and it's best for everyone to know that we can't all be superheroes and do what's right 100% of the time. That, and if I know I have to be completely honest and share every setback, it will hopefully make me less tempted to give up or make those mistakes. Even if it means posting less than flattering pictures or videos of myself, I'll suck it up and go for it, knowing it's for the greater good. I won't weigh myself everyday and share the progress, but I will share anytime an article of clothing fits a little better, or an old trusty pair of jeans gets just a little too large to still look fashionable. It's those little mood-lifters that are the key to health and happiness.
So, if you decide to come along for the ride, strap yourselves in, it's sure to be a bumpy one. But one I'm ready to face. I may not post daily, or even weekly, but I will post every time something important comes up. Be it with a recipe, review, recommended reading, fashion tip or just pointless blabber, I promise to keep writing and keep working towards my goals. I'm not planning on stopping now or making up any excuses to fall behind. And how can I be sure? Well, I've already tackled my first struggle: I spent well over an hour working on this initial blog post for the entire thing to be deleted before it posted. Did it suck? Yes. Did I want to give up and throw out the whole idea? You bet. But here it is, in writing, for all of SparkPeople to see. (Even though I still feel that the first draft was better...baby steps.)
So to everyone out there who's in the same place as myself...I wish the best of luck to you. And I hope we can all work together to give each other the support we need to achieve healthier lifestyles.
And I promise, I won't always be so wordy. But hey, it's an introduction, and I told you know I'm not that great at those. But I'm getting better, I promise.
Best wishes,
Jamie