Tuesday, February 28, 2012
Today has been going better though in terms of what I've had to eat. I did choose to have ~8 chips (they were broken small pieces, so that's what I'm guessing) with about 2 Tbsp of the dip after lunch, but my meals have been really healthy & I'm logging everything.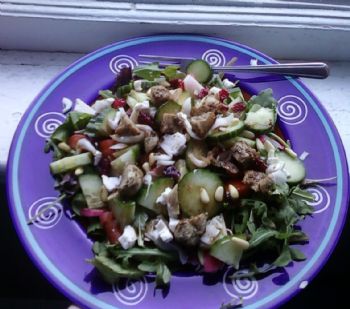 This was the salad that I made myself for lunch: spring mix, chicken, a radish, a tiny special kind of onion, cucumber, pine nuts, dried cranberries, tomato, feta cheese & homemade balsamic vinaigrette. Yum! I also had some dried apricots & roasted unsalted cashews.