Tuesday, February 28, 2012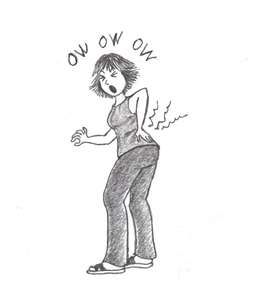 So, I hurt myself. Good thing was it was when i was working out, but bad thing is I'm not sure when I'll be able to do that again. I was in the position of a half bodyweight squat and when I started to come back up, all of a sudden, YOWCH! A lower back pain, and I paused the workout video and wanted to sit, but I couldn't, I couldn't bend forward at the waist. I actually had some tears of frustration as the pain didn't go away and I couldn't sit down. I eventually got help laying down, but those first almost 24 hours were horrible. Right now, the heating pad is my friend and driving over any kind of slight bump is no fun at all.



I wasn't sure I wanted to blog about this because I'm embarrassed that I hurt myself. Part of why I post on this blog is so I can look back on things I've done or said to see how I felt at the time along my journey and I DO NOT want to forget about this. I also admit to eating extra crap over the weekend as a pity sort of thing. I'm over that now. I know that if I want to keep working toward my goals, what I eat is even more important now.

But, I'm scared that I will get out of the habit working out and I don't want to get used to just laying on my back. I thought that maybe I should do some walking, but I kind of want a plan. 10 minutes? Maybe walk in place on commercial breaks? I am hesitant to do anything with weights. But, I tried a plank, and even a couple shallow body weight squats, last night after using the heating pad a while. Without the heating pad, things aren't as much fun. I don't seem to have lack of mobility any more, some movements just hurt more than others.
I sure hope this gets better soon!