Saturday, February 25, 2012
My daughter had her sweet 16th birthday tonight. I was supposed to be working a 12 hr night shift tonight. I only get one personal day a year so you kinda have to make it count. I called in and used it today, I felt it was very important for me to be there for her birthday this year since it is her 16th. It is not uncommon for me to miss events due to a unfriendly work schedule so she would have understood but this time it was going to be different.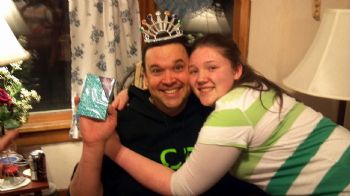 This picture taken after winning the "pin the crown on the princess" game. After being mercilessly spun around I managed a near perfect hit on the princess and won a Tiara and a glitter notebook. I even got my picture taken with the birthday queen. However, in light of the hard effort of the second place runner up, I abdicated my hard earned prize to her. It took alot of courage for a 42+ yr old guy to go head to head with a group of wild teenagers but old age and treachery will always overcome youth and vigor lol.....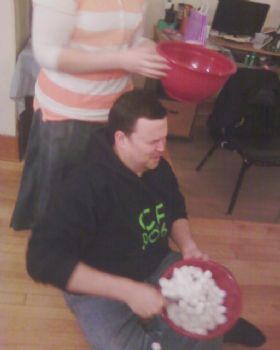 Then i successfully transitioned to the next event, the cotton ball scoop.
I had to close my eyes and scoop as many cotton balls out of the bowl in my lap and get them into the bowl on my head in one minute. I did ok but I did not represent my age group very well in that event...no awards...
Last but not least..
I had to guess the amount of candy inside a plastic piggy bank. I guessed 400, it was actually around 325. Again, no age group awards....
All in all, the birthday triathlon was a great success and now I was crowned the coolest dad ever. I would not, however, recommend fueling with pizza in between events. I think it caused me to lose some of my focus....

there is always next year... I have 350 days to train then its taper time.. I will overcome.