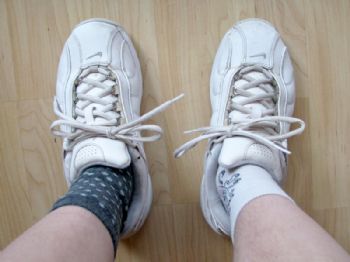 (My old, wide tennis shoes that got me through my weight loss.)
During high school and college, the only pair of tennis shoes I owned was a pair I bought for gym class. I was (and am) a hardcore Converse fiend. I'm not a shoe connoisseur in the least.
But when I acquired my elliptical in June of 2010, my mom took me to buy some actual tennis shoes. I knew I needed them, but despite being practically the only people in the store, I felt awkward trying on the shoes. All of them felt like they were crushing my feet, and I couldn't help but think it was because I weighed 220 pounds.
I finally settled on some ugly white Nike shoes. They were wider than most, so they felt more comfortable, even though they looked ridiculous. They were size 8 1/2 and $50. My mom graciously paid for them, so I used that fact as incentive to put them to good use.
The shoes were never snug on me, but that was okay. I was only using them on the elliptical anyway. However, whenever I wore them out of the apartment (not often; I avoided it), I felt like I was wearing clown shoes. I even asked my friend Caito, "these look stupid, don't they?" She is fashionable and confirmed that they did. For example, here's me last July at Enchanted Forest (I was about 133 pounds here):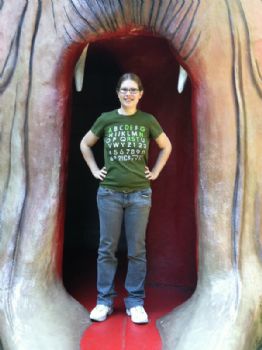 (This witch's mouth haunted me as a kid.)
And here was our genius attempt at hiding my shoes with her awesome ones: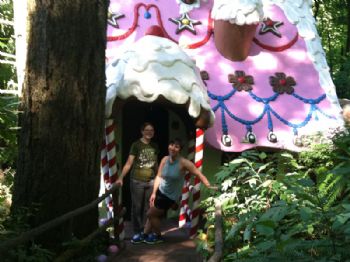 (This is the house from Hansel and Gretel; isn't it awesome?)
Anyway, I'm stingy and continued to wear the shoes despite the fact that I sort-of hated them and they were getting looser and looser. I just didn't want to pay for new ones.
But for my birthday last October, I got a little box in the mail. It was an orange, miniature shoebox, and it contained a $50 Nike card from Caito! She lives in Nebraska right now, so I waited until she was in town, then we made a trip to the Nike factory outlet store to find me some epic shoes.
They were having a sale on the day we went, which was a blessing and a curse. Some stuff was 30% off, but the store was swarming with people. It seemed like everyone decided to bring their children to the Nike store that day, and there was an overabundance of employees aimlessly walking down the aisles. All my visions of a leisurely shoe-finding trip went out the window, and I suddenly felt rushed. I just wanted to find the right shoes and get out of there, but trying on shoes is not the fastest process.
Luckily, I guess, I was pretty particular... I didn't even try on shoes that I considered ugly (I have that luxury now), and if I put on a pair that didn't feel right, I immediately took them off. But I was worried I wouldn't find any shoes that actually felt good.
To my relief, I found some that I liked. I was hoping for some turquoise or green shoes, but these were gray and yellow -- still better than pink. They were size 8, and they made my feet look thin, unlike the clown shoes.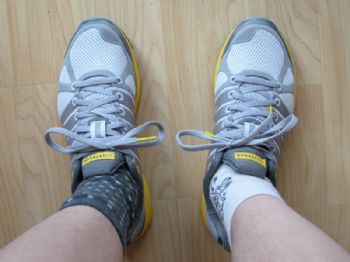 (And no, I never wear matching socks. I consider it a waste of time, much like shaving.)
The original price on the box was $79.99. The sale was 30% off, so $56.00. After swiping my gift card, I handed the cashier 6 bucks. It was the best thing ever. 6 dollar shoes!
But I would've paid more for them if I had to, because they are so nice. They fit so snugly and comfortably that I forget I'm wearing them. Best of all, I can wear them in public. I actually feel somewhat like one of those fashionable, fit girls.
Only I'm still missing a sports bra that fits. I know. That must be rectified soon.