MUB: Update Blog (also about my wrestling kid)
This week I joined a new spark team. It has been fun doing their challenges. (Thanks Jacqueline and Jessica). I also realized I have been on spark for 8 months now.
Last week I was not feeling well so I took it easy on my exercise. I was better this week so I got back to my more vigorous exercise. It has been a busy week, I don't know where the time went or what even kept me so busy.
Last weekend I overate on Saturday night. Too much junk and too much salt. I paid the price with water weight gain that took until Tuesday to go away. I will not do that again this weekend!
My son has his regional wrestling tournament this weekend. He made it his first year! I wanted to write a little about him. See he is my inspiration. If you could have seen him in the first wrestling match compared to now you would understand. He knew nothing about wrestling but he worked so hard he is doing great!
Alex started out on Junior Varsity. This means his matches did not count toward the team. When this happened, we were just hoping he would gain experience and get some exercise.
However when you challenge my son he will do anything to get on top. He wanted to be on the Varsity Team. He worked so hard and now he places in every tournament and always wrestles on the Varsity team. He even took first place in a tournament. His record is 22 won and 8 lost. At first, I did realize this record was very good. As it turns out, we now know he is second in the region. The number 1 kid in his class wrestled at a record of 26-8. Since Alex started later on Varsity, he has fewer matches.
If my 14 year old can start a new sport in Nov 2011 and now in February 2012 is working on competing on the state level we can all get healthy and win the battle with obesity. I am taking a lesson from my son. He does nothing half way. He gives his all during practice, eats healthy and does what his coaches ask of him. He even tells me he chooses the hardest workouts when given a choice. ***No short cuts and no excuses. **
He does lose from time to time. After a loss, he learns from it. He always tells us what happened and what he would do next time. ***So if you slip up, find out why and learn what to do next time. Don't give up.***
Let's all take a lesson from a 14 year old. Don't give up and have goals! His goal was to make it to regional's and tomorrow this goal will happen!
If a teenager can do this in just a few short months we can work on our health.
As you can tell I am so proud of his acomplishment!
Here are some pictures of Alex. He is now almost 5'6 and he wrestles in the 119 weight class. Skinny but ALL MUSCLE. I am shocked at the amount of muscle he has now.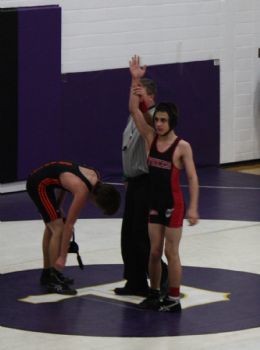 UPDATE:
Alex won 2nd in the Region! He will move on the Sectionals Next. (Then State)
Just proves if you work hard enough your dreams come true