Thursday, February 23, 2012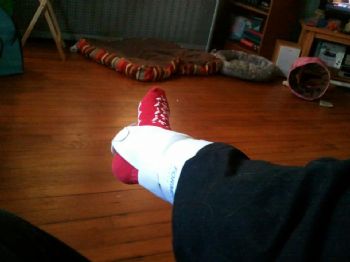 While walking my doggies Tuesday morning, a hole in the sidewalk tried to kill me. It only succeeded in messing up my ankle. But how seriously inconvenient is this? How am I supposed to walk an hour a day with two dogs - and crutches? The short answer is this: I'm NOT. The more complicated answer is that I've simply stopped using the crutches. And I can't really walk the dogs. I made it to work today, at least. I go to see the Orthopedist today, I'm hoping he/she puts me in some Steve Austin type boot that allows me to resume normal activity. Hey, it's possible!
Today is my 44th birthday... I don't think spontaneous healing is too big of a request...