Hot...hot...hot stuff!
Wednesday, February 22, 2012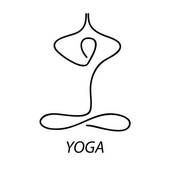 Bikram Yoga...I love the sound of that in my life again. I love to tell people that I'm practicing yoga again. It's definitely a positive in my life and when there are positives it makes things so much smoother for me. I AM A POSITIVE PERSON!
I believe things happen for a reason. I receive emails from Active.com Schwaggle, very similar concept to Groupon or Living Social but this has to do with fitness activities. I received an email from Schwaggle last week for 10 sessions of Bikram for $48. I've been pondering on whether to go back to practicing yoga again and all arrows pointed to the benefits of it for me. So I signed up knowing that I'd love it and want to continue. You see though, it seems like any workouts I end up enjoying, I have to travel so far to get to them. This reminds me of a post one of my good FabFit friends posted on Facebook the other day about the time spent traveling to work, workouts and just about anything we do in life. I love kickboxing but the dojo where I workout is in Allen where I work but I live in Rowlett, which is 30 miles away. Luckily the class I take during the week is during my lunch time but I do travel on Sat. to get the benefit of the workout. As for Bikram, well, the studio is located in Richardson, far from my home but the good thing is, I can practice at 4:30pm and I get off work at 4pm, so I make it to that. I decided, for my health and my well-being, this was doable. It seems I'd travel the ends of the earth to get my workouts in and YES I will! Soooooooo, I began my Bikram yoga practice this past Monday as I was off and figured it'd be a good day to start. The two ladies who greeted me at the door at noon, were awesome. They were very accepting and informative of all I needed to know going into this type of yoga. The yogi for the noon time class really helped me focus on some of my past injuries (sciatica and rotater cuff issues) and even told me after class of a few things I need to concentrate on while practicing. That made me feel right at home knowing she was watching me. I'm hoping this increases and improves my flexibility and will also assist in muscle soreness recovery from everything else I do.
Namaste