I have been really frustrated with myself lately, I set a goal to be in Onederland by June 22nd, my daughter's first birthday= NOT going to happen!!! I also set a goal to be in 230's by my 35th birthday March 24th=NOT going to happen!
Am I setting unrealistic goals? Goal setting is good right?

Anothe issue that has been causing frustration and is creating negativity is my "pace". I have to get over the fact that I can't run my 10 mm pace or even my heavier 12 mm pace!! I am "wogging" 14-15 min miles!!! After all, I am 80lbs heavier than my 10mm pace and 60lbs heavier than my 12mm pace!
I went to bed last night anxious about seeing what the scale would say today

!! My baby girl turned 8 months old, I weigh myself every month on the 22nd to see how I'm progressing towards my Onederland goal! I got 251.8, which is 39.8 lbs down!
BUTTTTTTTTTTTTTTTTTTTTTTTTTT
TTTTTTT then, while laying in bed thinking about how far behind my goal I am, I opened my email from my phone and read a article posted by SPARK COACH NANCY!!!!
'You Have a Purpose in this World' and feel like I went to church or something!!! It was exactly what I needed to hear today!!!

I hope everyone get's a chance to read it!
I am no longer going to focus on what I haven't or can't do, and focus on what I can or have done!!!!!!!!!

I will embrace where I am in this journey and remember is it just that, a journey of a healthy lifestyle and not just what the scale says!!! Thanks Coach Nancy!
I embrace my "wogging pace" and give myself credit for being a 252 lb person getting out there training for a half marathon!!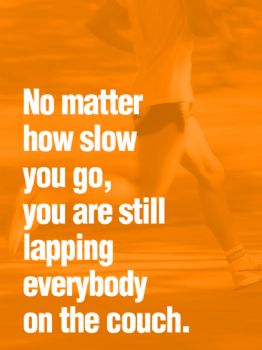 NO MORE:
~setting unrealistic goals
~ worrying about my pace
~ comparing myself to those who lose every single week
~ searching for a new diet/program when the scale doesn't move
~negative talk
I will:
~remember I didn't gain overnight and won't lose overnight
~this is a journey, not a race
~ tomorrow is not promised and live for today
I CAN ONLY GET BETTER :)

Kimberly