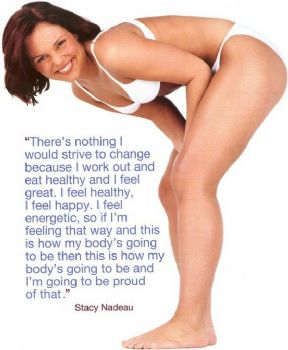 "There's nothing I would strive to change because I work out and eat healthy and I feel great. I feel healthy, I feel happy. I feel energetic, so if I'm feeling this way and this is how my body's going to be, then this is how my body's going to be, and I'm going to be proud of that."
**Source: pinterest**
"If you are of of those rare and fortunate people who already experience your body as perfect exactly as it is, with all its foibles and strengths, then you already embraced the lesson of acceptance and can fast forward to the next lesson. However, if any small part of you believes that you would be happier if you were thinner, taller, larger, firmer, blonder, stronger, or some other physical alteration you think would magically transform your life for the better, then you might want to spend some time learning about the value of true acceptance.
Acceptance is the act of embracing what life presents to you with a good attitude. Our bodies are among the most willing and wise teachers of this lesson. It can be like an ever-present benevolent guide or a lifelong cross you bear. The decision is yours based on how well you learn this lesson.
For many people, their body is the target for their harshest judgment and the barometer by which they measure their self worth. They hold themselves up to an unattainable standard and berate themselves for coming up short of perfection. Since your physical shape is the form in which you show up in the world, it is very often the way you define yourself, and often the way others define you.Imposing harsh judgements on your body limits the range of experiences you allow yourself to enjoy. How many times has a wonderful day at the beach been tainted by your judgements about how you look in a bathing suit? Imagine how liberating it would be to happily walk across the warm sand without feeling self-conscious. Think of all the activities in your life that you have deferred until you look different, better, or perhaps even perfect.
There is much documented proof that the mind and body are connected, so acceptance of your body is not only essential for your emotional well-being, it is essential for your physical health as well. Denying your body complete acceptance can lead to illness, whereas practicing acceptance can heal disease. The drive for self-improvement is completely healthy as long as it comes from a place of self-love rather than a feeling of inadequacy." ~ Andrew Adler
www.clarityesd.com