Just an update. Haven't blogged in a minute. Same old same old lately. Still tracking all of my food, trying to get 3-4 days per week of cardio and ST. I have been looking for an elliptical the past month. It has been so hard to pack up my girls to get to the gym. By the time they wake up, get them changed, feed the two older ones breakfast, then feed the little one her oatmeal cereal, then feed myself, then get dressed and ready to go, pack the diaper bag, get the jackets and shoes on, lock up the carseat and get out the door I'm not out of the house until 1130 am almost, and the daycare is only available until 1pm at the gym. It gets really frustrating some times.
So, I talked to my husband and he was okay with me looking to purchase an elliptical (since he's the one that pays for everything lol). I checked out tons of them, different types, and insanely expensive prices. I wanted one with metal framing, smooth glide, quiet, and at a decent price. I had come to the point where I thought I wouldn't find one that was right for me. One day, browsing on the internet, I came across a link for Play It Again Sports... I had no idea they sold workout machines. Conveniently there is one right by my parents house. I went yesterday and checked them out, and they had a Horizon Fitness E-57 Elliptical. I didn't see this one when I was looking around for ellipticals. It had the metal framing, it was quiet, smooth, and it had different types of workout programs, everything I was looking for!! I was SO excited!! It was originally $600, and on sale for $500, and they had just marked it down 20% so I got it for $400 without tax.
I just tried it out this morning and it gave me a harder workout than the ones at the gym! I got 20 minutes in and burned over 300 calories! Holy CRAP! I LOVE IT!! My daughters were downstairs with me, they were playing in the oversized huge box it came in playing house while I got my workout on!!

I just hope that I stick with trying to get in some cardio every other day for now. I have everything I need. I have dumbbells, a swiss ball, my polar HRM... I have my only lil' gym right in my own home!! I LOVE IT!!!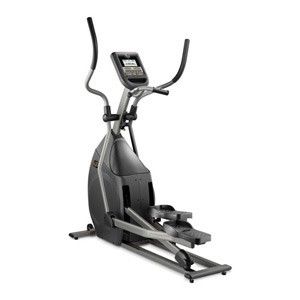 picture taken from horizonfitness.com