Monday, February 20, 2012
It was a very busy week for me last week at work. Happily, I took Friday off because I have lots of vacation time I need to use and today is a holiday.
I went for a sports massage again on Thursday. Ouch...but so good!!
Sunday was my birthday so I baked some Hot Chocolate Cupcakes. The recipe is from Fine Cooking (Hot Chocolate Layer Cake). I made a 1/3 batch and did cupcakes because I really didn't need a 3 layer cake especially at 1080 calories per slice.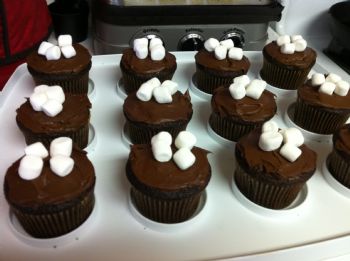 I was able to do 3 runs last week..Tuesday, Thursday and one my birthday :-)
Today I'm looking forward to some elliptical and Jackie Warner 30 Day Fast Start. I'm really liking the pyramids and there aren't any high impact moves or things that bother my ankle so I think it's good until I'm fully back to normal.
I have an appointment his Friday with the PT. I will see what she says. I've still got a little bit of twinges every once in a while but it's definitely doing much better.
Happy Monday!