Sunday, February 19, 2012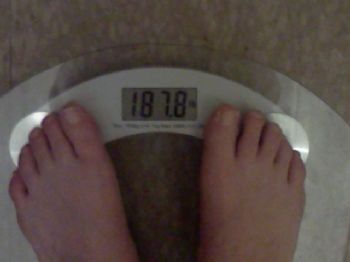 I'm down 1.5 lbs from last Sunday. I am happy with that, but I am discouraged with my overall weight loss so far this year. I had gained a lil over 10 pounds at the end of last year and I just can't seem to lose more than a few, gain them back, lose them again. *sigh*
I have this coming week off from work (school). My kids do as well, but they will be with their dad. I asked him if he wanted to switch around the weeks so that they could be with me this week and he wouldnt have to get a sitter, and he said no. That's fine. I got my elliptical on Friday and so I will have to exercise my tail off this week!!!!
Last Sunday I gave my boys all of their gifts for Valentine's Day when they came back from their dads house. It was so nice to see my older son so happy about getting something! He loved his new laptop, and has used it all week. He really doesnt know his way around the internet yet, but I keep peeking in his room and he's been looking up songs and movie clips on youtube. I set him up with an email account, and a yahoo IM. He and I were IMing each other from his room to the living room where my laptop is. LOL I am just happy to see him doing something other than walking around and talking to him self and writing words in the air with his finger. He's such a great kid and never asks for a thing. One time he sat on Santa's lap when he was little at my ex inlaws Christmas party. While the other kids were asking for expensive toys and video games, he asked for "orange pop" (orange soda) lol
My younger son, I had gone to Game Stop across the street and bought him a new blue wii remote, wii remote charger station, and a udraw wii tablet. We had had a snowstorm, so I knew I couldn't give him the Green Machine (big wheel) that I talked about in my last blog entry. It cost me over $130 for those things! When he opened them up, he liked them, but looked confused. He said "ed told me that everyone was gonna like my gift and wanna get on to use it" and so I said "yeah, on the wii".. he then said "ed said OUTSIDE" .. lol. Ed started laughing and then went and got the Green Machine and gave it to him. He was sooooo excited! So, i really didnt need to buy all of that other stuff... oh well, he's happy and has been using the wii stuff all week long.
My steps last week were:
Feb 12, 2012- 10193
Feb 13, 2012- 18841
Feb 14, 2012- 12338
Feb 15, 2012- 18678
Feb 16, 2012- 10500
Feb 17, 2012- 17346
Feb 18, 2012- 6609
This week I am going to focus on getting tons of steps in, especially on the elliptical, and I am gonna organize every room in my apartment.