This blog is the first in a 4 week series that I will be entering each week alongside a 4 week Virtual Trekacise (walking +/- exercise) of Fraser Island (Australia) that members of the Chair Exercise Team, Indygirl Challenge and Sparkies Down Under Members will be taking part in.
After all for all you poor frozen Northern Hemishereites what could be better than learning, maybe even dreaming about, or even planning a trip to a little piece of Paradise in the sun while getting a little extra exercise?? But you will need to pack your thongs, togs and sun screen – both sea and lakes are like a warm bath!!
Anyone who wishes to join us, take part in the Trekacise and learn a lot more about Fraser Island is welcome – you will need to join either
Chair Exercise Team,
www.sparkpeople.com/mys
park/groups_individual.asp
?gid=32265
Sparkies Down Under,
www.sparkpeople.com/mysp
ark/groups_individual.asp?
gid=4672
Or
Indygirl Challenge,
www.sparkpeople.com/mysp
ark/groups_individual.asp?
gid=50783
I am very grateful to the people at Murray Views, Gympie Australia, who have generously given me some of the beautiful photos from their Coffee Table Photo Book – Fraser Island - to use in these blogs.
Fraser Island is one of the most beautiful places I know – and I hope over the next 4 weeks these blogs and the Trekacise will introduce a few more people to this little spot of paradise!!
Fraser Island is the largest sand island in the world stretching 123 km long (76.42miles) and covering an area of 166,038ha or 1840 sq km (710.4 sq miles)
The Aboriginal name for Fraser Island is K'gari, pronounced "gurrie". It means Paradise. Whether you believe it is the creation of Mother Nature or in fact the earthly incarnate of Yindingarie, the messenger of Aboriginal God Beiral, Fraser Islands mirrored lakes, rebellious rainforests mesmerising sandblows and historic icons are totally unforgettable. Midden Heaps, ceremonial bora rings, stone implements, and canoe trees can still be seen around the island.
Fraser Island – sits just off the coast of South East Queensland, Australia. It is home to untouched freshwater lakes and streams, including some of the world's rarest dune lakes, Wetlands, heath decorated with wildflowers and 1000 year old rainforest trees all thrive from nothing more than sand. Rainforests require high rainfall and rich soil to thrive, but for the past 800,000 years rich rainforests have defied Mother Nature and called Fraser Island home. All the island's landscapes provide protection for some 350 species of birds, wallabies, possums echidnas and Australia's purest dingos.
Its lakes and the ocean that surrounds it are home to fresh water turtles, dolphins, dugongs and humpback whales during their migration between May and November. Fraser Island's abundant flora and fauna that call this magical paradise, which has formed on top of the curvy mass, has made it one of the most diverse on the planet.
A miracle of nature all living and growing in the sand on Fraser Island.
The treks are based on the Fraser Island Great Walk, with an odd side trip – and will traverse most of the important features during the 4 weeks and I will be blogging pictures and points of interest as we go along, but there are many more links to articles and pictures in the Trekacise.
Week 1
From Hervey Bay to Central Station:
Vehicles and visitors mainly travel by barge from the mainland – there are 2 pick-up and drop off routes, Inskip point which is accessed from Rainbow beach along the beach and then a short barge hop to Hook Point , or River Heads which is part of Hervey Bay City and the ferry goes to Wanggoolba Creek. Kingfisher Bay Resort has their own barges and passenger ferries that go to the resort from Hervey Bay. A few might travel by light plane – there is a small local commercial service and private planes also land on the island – as does the air ambulance when needed. There are a few sand strips and 75mile beach is also used as a landing strip.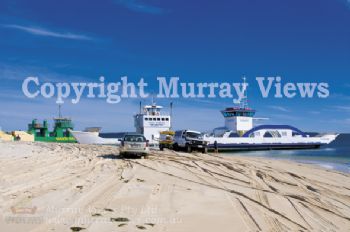 On the barge crossing maybe we will see a dolphin or a turtle or even a humpback whale, even a pod of whales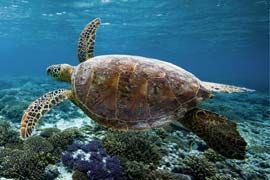 Loggerhead turtles come to lay eggs at Mon Repos, Bundaberg, in Hervey Bay, each year.
Humpback whale mothers with their young swim so close to the boats – its an awesome experience. The boats are dwarfed by these curious gentle giants that come each year from May to November to rest on their migration and play in the warm peaceful waters of Hervey Bay with their babies.
A few facts about the humpback whales –
they can weigh up to 45 tonnes,
they grow approx. 12m (39.37ft) in a lifetime,
the calves drink up to 600lit (1268 pt.) of milk containing 60% fat each day,
it is estimated that only 30 – 35% of the original population now remain.
4 wheel drive bus (some are 6 or 8 wheel drive too) – our transport. (they have easy rear access) Only vehicles with 4WD or above are allowed on to the island and really they are the only practical vehicles as the "roads" are sand tracks.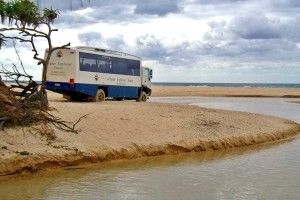 They ride more smoothly than it looks!!
Lake Boomanjin – a perched lake - There are over 40 lakes on Fraser Island, some of which account for over half of the world's perched lakes. A perched lake is one cut off from the groundwater table by a layer of rock and it is mainly fed by rainfall. Lake Boomajin is the largest perched dune lake in the world with an area of 190 hectares (469.5 acres), Boomerang Lake is the highest dune lake in the world at 130m(426.5ft) above sea level.
Although it's a perched lake the water of Lake Boomanjin has a characteristic tea colour – the result of leaching from surrounding vegetation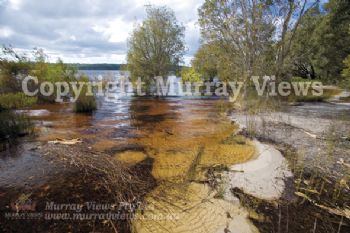 Lake Birrabeen - This beautiful lake is equally as lovely as the more famous Lake McKenzie with its clear blue water and white silica sand – and is far more peaceful than the very popular Lake McKenzie.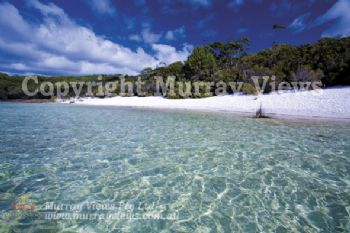 Round the shores aremassive Scribbly Gums - their trunks look like a child has scribbled on them!!
Central Station -
The headquarters of the thriving logging industry on Fraser Island until the 1990s was Central Station where over 100 workers lived at one time, harvesting Kauri Pine, Satinay and Brush Box. After the Island gained World Heritage status in 1992, both logging and sand mining ended. Central Station became one of the main offices of the Environmental Protection Agency.
Although a few tree stumps still remain to remind visitors of the days of logging, Central Station's grounds are now used exclusively for camping, and picnics by visitors. The amenities and many walking tracks to various parts of the surrounding forest and streams make this a popular base.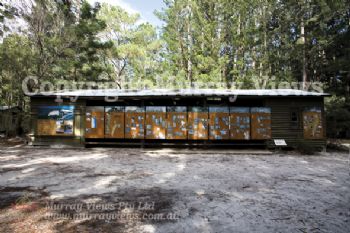 The information center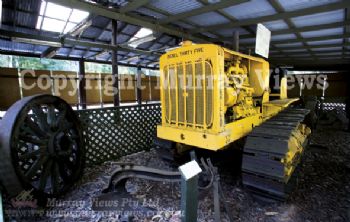 An old logging machine – a relic of the logging industry long gone.
Wanggoolba Creek – is without a doubt one of the most photographed places on the Island. Within a few steps you walk from an open sunny area that is Central Station into dark lush rainforest wilderness seemingly miles from anywhere. The tall straight trees give way to moss and lychen-covered logs, rainforest trees vainly trying to shrug off strangler figs, piccabeen palms, and giant prehistoric Angiopteris ferns which have the largest fern fronds in the world.
Seeping up from the sand the water is often so clear and calm its hard to see and its sandy base makes it almost silent. The creek actually is about 15 – 20 cm deep and flowing and flanked on both sides by dense forest ferns and tropical palms, including the magnificent King Fern (Angiopteris evecta) a rare plant found in only a few places along the tropical Queensland coast whose fronds grow up to 7 mt long.
If you stand quietly on the wheelchair friendly boardwalk you will hear the sounds of the rainforest. Lizards rummaging through leaf litter, birds calling, wind rustling through the trees and the rippling of this wonderful creek.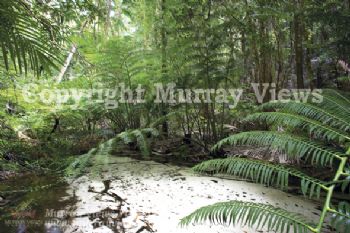 Please Join us next week as we Trekacise from Central Station to Lake Wabby - or join in the Virtual Trekacise