Today I found out Bob had someone using his phone to photograph the frogs and then Rockie (Dr K's nurse), with the frogs and both of us. So I have two pictures to share. He had wanted the little ones between the two big ones, so I have no idea how they came to be on the side. Without further ado, I present the asked for pictures (see the blog for 2/16):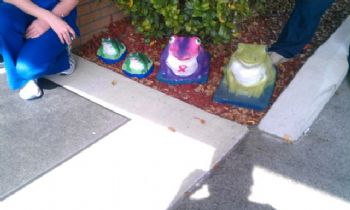 The frog family with Rockie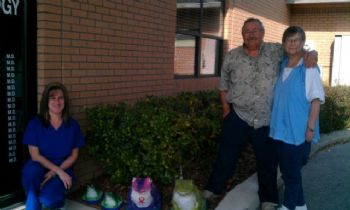 Here are the frogs, Rockie. Bob, and Ev
When I finished my treatments, I got two pages of things to do and not do to insure I didn't have more problems. Most are common sense and/or things I had already know from surgery: not blood pressure taken or needles in the arm where the nodes were taken for example. It also mentions lotions to use and those to avoid and never use. Personally I have ended up with one of their recommendations to use. It is my personal choice as I know my mama used to use it many years ago. And that is Eucerin. I really like it, too. It makes my hands and arms feel so soft. It is free of all the nasties that are often used as preservatives.
I am going to share something I found (sorry, I can't remember which article it came from) that I think is going to become a new favorite for me. Rather than using wraps to hold the goody fillings, use a large lettuce leaf. Doesn't that sound divine? With all the problems I have with breads, this should let me have the wonderful fixings I have been avoiding.
Today we had to go to town yet again. We decided to have the special at Pizza Hut for lunch. Bob loves the pizza and I love the salad bar. I know what I can and cannot eat by trial and error. Today I found I can have low-fat ranch dressing if I keep it on the side and dip into it. About half a normal serving worked ok for me. I love having that kind of control rather than having it all over the salad where I often used to get too much. I found I can also eat the thin and crispy crust. I only had about a quarter piece all together. Why? The pepperoni burned my mouth really bad, so that is out for a long while into the future. I also thought I would try the apple dessert pie made with the same crust. Nope, couldn't do it. The cinnamon burned, too. Guess I can't have my favorite all time snack of apple slices with cinnamon sprinkled on them. I also got a strange look when I first ordered my water with lemon and then 1% milk!!
But I didn't care. As hard as it has been for me with the soda, since I can tolerate water again, I have limited the amount I have to one a day and I
usually have ginger ale as a snack by itself - no chips, corn chips, etc. I still can't have juices. Oh, that's another rule: limit juices, especially citrus. I still have lemon in my tea and water. As much as this is a big pain, each day it seems I can tolerate more and more kinds of food.
I don't think I have mentioned the trays I use to apply my fluoride treatments each day. They are kind of like the mouth guards football players and other athletes use, only these were made from impressions from my teeth and are clear in color. Well this morning I found I have bitten through my bottom one and it has a nice little hole in it. I have no idea how I managed to do it, but I certainly have!!
Something else has been on my mind: how downright mean some people can be when talking or writing about their opinions. OK so they may not agree with what we do, but gosh darn it! My life experiences are different. Don't expect someone to do the same, feel the same, etc as you! In most instances no one is ever right or wrong, just different. I simply have a difficult time understanding how so many can be so judgemental. I guess you could say this is one of my pet peeve - people who aren't tolerant.
On one of my friends' blogs, I saw this and decided to "steal" it!
Five Things I Like About Me:
1) My life
2) My willingness to try to help others
3) My blue eyes
4) My hobbies and all the friends I have made participating in them
5) My capacity to love
This is all I can manage tonight. I really need to get to sleep. Love to all my friends.