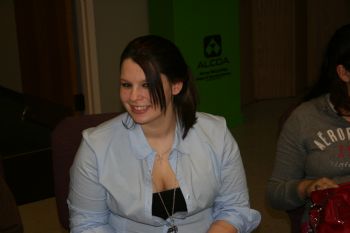 Back to Raven....
The first time She was with us, she was only in our home for 6 days. During that time, she told us she was pregnant but the hospital ER declared her to not be (based on a urine rather than blood test - I asked for a blood test but was told it was not necessary because their urine test was "highly" accurate). She also made a pass at my husband, stole a pregnancy test from a store (after the ER because she was CONVINCED she was), and then her first day of school - she beat a girl who looked at her the wrong way.
When the school called us to inform us that in less than a half day, she had developed a liking for some boy. When she saw him sitting with a girl at lunch, she simply approached them, tried to flirt with him, the girl objected, so Raven BEAT her. She was going to be facing assault charges. They wanted us to come get her as she was going to be expelled.
My heart was broken. We were SO green. We wanted to help every child. We had a newborn baby girl in my home and a sweet, naive, 16 year old daughter of our own. We simply could not keep a child who was a danger to others. We told them they would have to call DCS or the police department and that she could not return to our home.
We spoke with DCS and told them we would like to continue to try and help her, maybe mentor her somehow but that she couldn't stay in our home. They placed her in a "level four" facility - basically a mental ward/prison. It was four hours from our home. A few Days after her arrival she began to experience horrible cramps and spotty bleeding. A blood test was ran which confirmed her pregnancy. She had a miscarriage shortly after. She called us sobbing. She said she kept begging them to take her to the hospital but they waited till the next day. Of course, we have no way of really knowing the truth....... however, had the first ER given her the blood test I requested, they would have known and taken her off of all the medications that likely caused her to lose her baby! I have always stated that had she been anyone elses' little girl, they would have done the right thing, but because she was a child of the "system" no one really cared to care for her the way they would have cared for their own child!!!
We arranged with DCS to go and visit her once a month. They gave us travel pay and paid for a hotel room. Each visit, we were escorted into a small concrete room that was void of anything even mildly entertaining - no TV, no phone service, no computer.... we would sit and talk with her. David would go out and get us all lunch. Sometimes we brought her small carefully selected gifts - there was very little she was allowed to have. Occasionally we could go out into a tiny courtyard that was fenced like a prison. She would call us each week but could usually only talk for about 10 minutes as any extra time had to be "earned" with good behavior and she didn't play well with others.
The first time we visited her she was shocked! She said she had been in this or other similar places and that no one had ever come to visit her. Even her sister, who had been placed with her grandparents, did not come. Occasionally she would call them and ask them to come visit, but there was always some excuse given as to why they couldn't make it. I know you are wondering so I will fill you in on this as well..... Raven had been placed with her grandparents once but something went horribly wrong with her and the grandfather so they had called DCS and said she could not stay with them any more. I do not know, but have my suspicions regarding this.
It was determined that Raven was bi-polar and she was given a new regiment of medication. Each time we went for a visit she seemed to be a bit more "normal." We began an open dialogue with DCS to plan on a possibility of Raven stepping down from level four to a group home and then eventually a second chance in our home. Little did we know that our world was about to be turned upside down!!!!!