Hey friends! I hope you are having a great week! I've been good with hitting my workouts this week!
I did c25k- MON/WED/FRI
ChaLEAN Extreme Burn 1,2,3- SUN/TUE/THURS
(I still need to get some abs in but that's all as I'll have SAT be my rest day.)
My body is feeling tight and I love it! I just keep telling myself summer is coming, and then I'll be able to feel good in t-shirts with my hot little muscles! (And we will be at the beach a ton! A fun trip to Maui is happening in June!)
How are you doing with your workouts?
On a personal note, this week I hit a goal I had set for myself back in November!!!!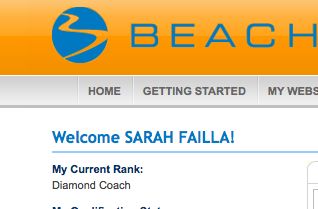 I know this doesn't mean anything to you (just a word!) but to me being a diamond coach shows that I have been efficient in helping others get fit!
How are you doing with your goals? If you are having a hard time have you thought about breaking the goal down into small parts? You know sometimes we hear people say if your goal isn't big enough you won't see it happen...and I think that we should dream big. BUT I also think that when I goal is SO big and is something we have never done before we can find ourselves paralyzed and stuck even with all our great intentions of achieving it. So break it down into the steps you know are possible and start there!
Like I said, have a great weekend! I'm still on a high from getting to be a diamond coach, but will keep heading on towards the other goals on my list! (And my studies to be a personal trainer are still happening, I've just had to go at a slower pace than originally planned!)
Do you have a goal that seems overwhelming right now? What are 3 small things you can do to get moving forward with it?
- Sarah :-)