I almost did not notice. I have now passed 1/2 way to my goal weight. My goal is to lose 175 pounds and I have lost 89 pounds (as of Monday's weigh in and I feel like I lost some more since then)
Things are getting better. People are beginning to say positive things to me. It is hard for them to ignore the weight loss now. Almost losing 90 pounds is a lot not to notice. Those that do say something then like to talk about how they need to lose weight. (Recently happened with 2 Mom's from son's baseball team)
While they probably need to lose 5-10 pounds at most. They talk about how busy they are etc. I realized if you need to lose weight, you have to be READY! I can't tell them to get moving and they do have time. I used the same excuses before I was ready to lose weight.
I am following the no more excuses mantra. If I overeat, I try to figure out why. I might even exercise extra to burn those calories. It is a new lifestyle for me.
As for those baseball Mom's I told them before baseball games I will be walking around instead of sitting on the bleachers. One said let her know and she will walk with me. Looks like we do have time after all.
Two nights ago hubby said I felt different when hugging me. He just kept rubbing my back. I think he was shocked. He was not trying to give me a compliment but it made me feel so great! He sees me every day so it is harder for him to notice the weight loss.
When I went to the Doctor this week, I was again excited to see the nurse use the regular size Blood pressure cuff. Each time I see that I stare at it and get a smile on my face. The nurse had no idea she made my day by not going to get the larger cuff!
The simple things make me happy! Plus I love getting on the scale at the Doctor now...Even though I am still over weight I am not seeing the scale peg out at the highest weight now.
It has not all been easy but this process is not as hard as I thought it was going to be. I won't miss being fat at all!
Other things that improved:
Sleep apnea seems to be gone
I can fit in chairs better
It is easier to drive
Taking care of myself is easier (shaving, painting toenails all the simple things)
I can clean my house better!
I can run around with the kids. (I always race my 12 year old, he beats me every time but it is still fun)
I can tie my shoes without hurting my stomach
None of my clothes fit! (Even things that I put in the back of my closet because they were too small)
Less Aches and Pains!
The towel fits around me after a shower
At my son's wrestling tournaments, I take the steps on the bleachers two at a time and I can breathe when I get up to the top.
I enjoy good, healthy foods. Fattening foods do not appeal to me anymore.
My health has improved…Cholesterol down, BP down, Blood Sugar down…(now still working on raising good Cholesterol)
I have a positive outlook. Life seems to be easier when I am taking care of myself.
I am considering a tattoo because I am confident I will keep the weight off and it won't stretch and look gross
I am looking forward to swimming
I am going to wear shorts this summer (Have not done that in a while)
This list could go on forever…..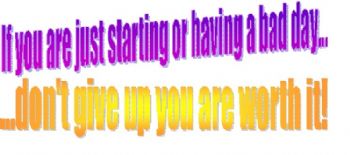 My inner fit person is coming out too....She is there!