well its been a learning process the last few weeks and I think I am finally into a gluten free swing, which is good. I have a few go to gluten free meals and I am still also experimenting with new things.
Something that I think has really helped me with this is my kitchen is almost completely gluten free now. My husband and children have been really supportive of this (have not complained). I have been making my husband salads or leftovers for lunch at work and I have been making my son pepperoni and cheese quesadillas made from corn tortillas or sandwiches on gluten free bread (only a few days a week since it is pricey). I was making them both sandwiches on whole wheat bread every day and I noticed that the crumbs got everywhere and even when I tried to be really careful I would end up making my self sick by accident.
The only thing I bought this week that contains gluten was some crackers for my sons lunch which are prepackaged so I dont have to worry about them.
I think I have gotten over the grief stage of all of this. I was sick of feeling sorry for myself so I am glad that is over. Im sure it will pop up here and there again sometime but overall I feel pretty good.
I had a very disapointing appointment with a nutritionist the first week of this month. I figured that maybe she would give me some meal plans, or some helpful tips for shopping ect... but instead all she did was suggest I eat quinoa and give me a 3 page printout from e-how on celiac disease. OMG, that kinda made me mad considering that my insurance money (which I only get about 1000 for the whole year for my whole family) is going to get hit for over $100 for something on ehow! She dident even seem like she knew much about what was going on with me at all.
I asked her when I could add dairy back in because I was lactose intolerant on top of celiac and I had read that celiac disease caused lactose intolerance and alot of times once your intestines healed you could eat dairy again.
She said that cheese and yogurt didnt really have lactose so I could eat them now.
I added back dairy in the form of yogurt and cheese and felt like crap for about a week so I decided to cut them out again and now I feel better. I will try dairy again in 6 months or so.
Anyway enough ranting about crappy doctors. I have had a really great 2 weeks of meals. I havnt really been unsatisfied with anything I have eaten. although I dont know about last nights meal, which is not pictured here. It was polenta lasagna with soy cheese and tofu ricotta. it was .... interesting. Not bad but not great. I think it may take some tweaking.
.............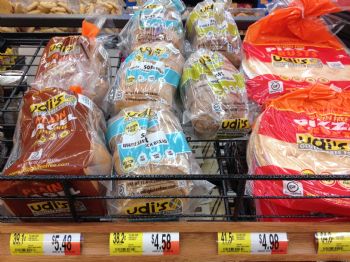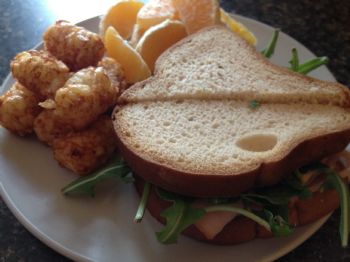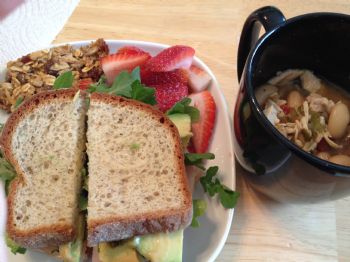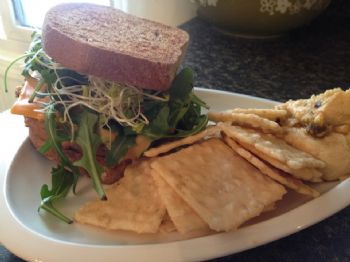 lots of tastey sandwiches on gluten free bread. sucks that each slice is 150 calories a peice though. Gluten free baked goods are so high in calories.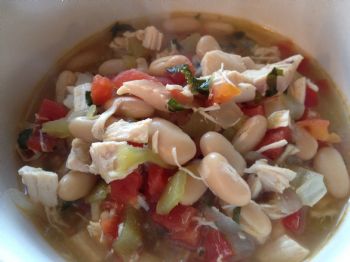 reeeealy been loving the white chicken chili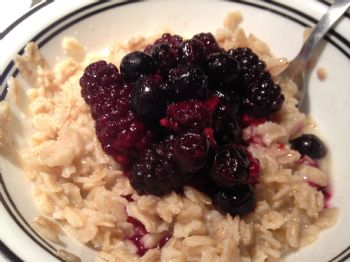 my normal go to breakfast of gluten free oatmeal & berries has been replaced this week by ------------->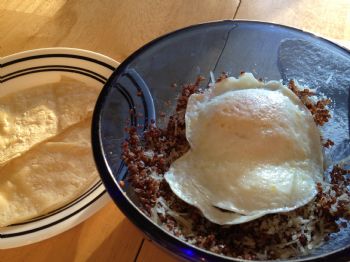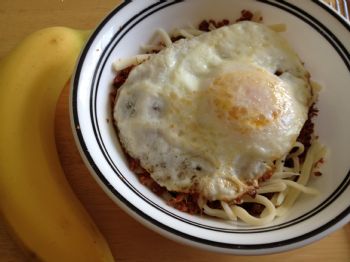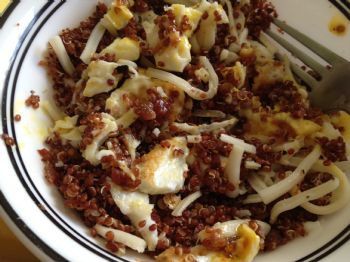 Quinoa topped with bacon bits, veggie mozzarella & fried egg.... OMG so good and so filling. You can make up a few servings ahead of time and keep them in the fridge in tupperwear.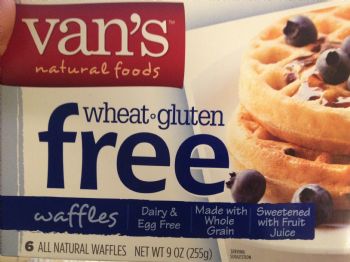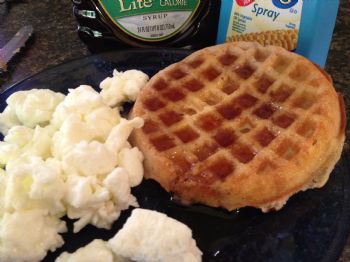 tastey but super high in calories and very pricey. a weekend treat.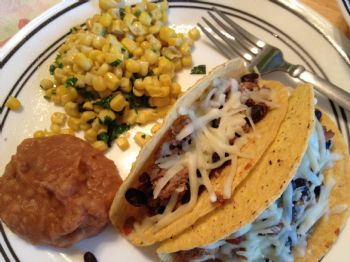 turkey and black bean tacos. I like this meal because I dont have to do much different then I did before I had to eat gluten free. I just have to make sure my taco shells and refried beans are gluten free and all of old el paso products state on the label if they contain ingriedents that have gluten. Their taco shells and refried beans are gluten free! yay.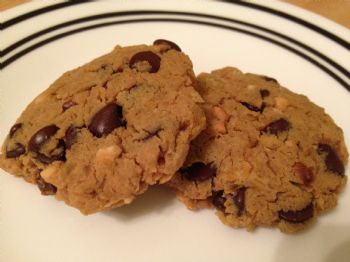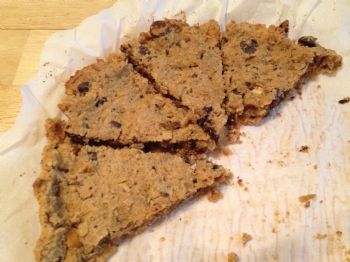 cookies & chocolate chip blondies - both made from chick peas. They are so good and my husband and kids love them. I have even told my kids they are made from beans (3&6 years old) and they still eat them. You just grind up the chick peas in a food processor and then add the other ingredients and either roll into cookie shapes or spread in a pie plate and bake ( I lined my pie plate with parchement paper for easy removal and clean up ) .... I think I prefer the pie plate method rather than the cookie method now that I have tried both.
recipe courtesy of Chocolate Coverd Katie -
chocolatecoveredkatie.co
m/2011/05/18/chocolate-chi
p-blondies-and-theyre-good
-for-you/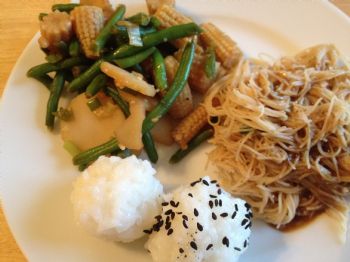 thai peanut rice noodles, asian veggies, & sticky rice balls. This was good but it made me really sick. The rice had been stored in a cabinet that had flour in it previously and I think it got contaminated somehow. it was good though.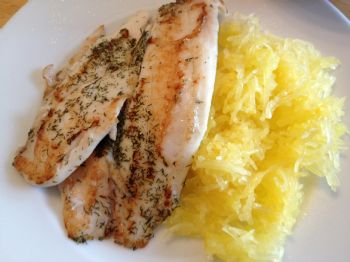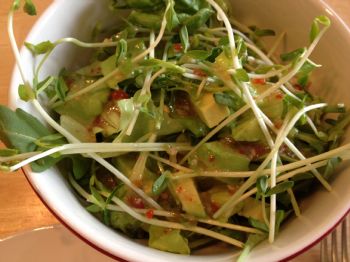 grilled tilapia with dill, spaghetti squash & green salad with avocado & italian dressing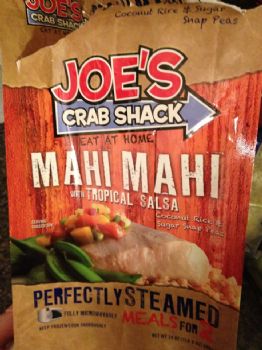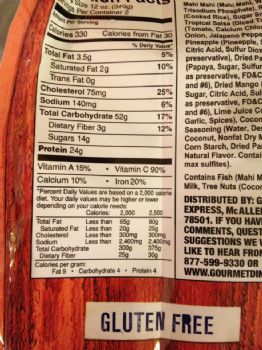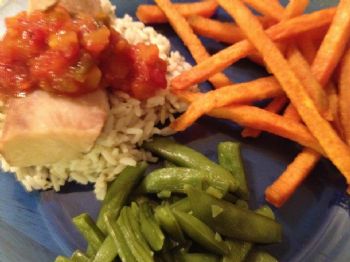 joes crab shack frozen meal - one of the only frozen meals I have found that is gluten free, good on calories, and does not cost an arm and a leg. This was only about 6 bucks for a 2 serving size meal. paired with Alexia sweet potato fries.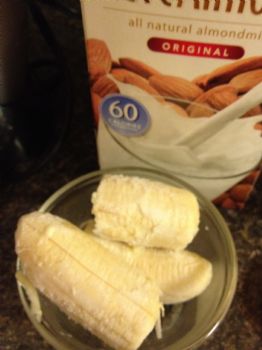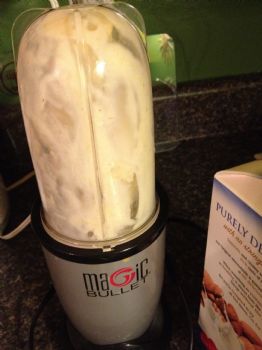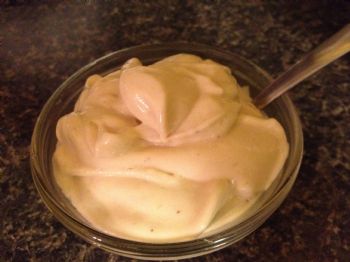 frozen banana ice cream - quick easy and good ... only problem is your eyes see vanilla and your mouth sees banana. .... I really wanted it to be vanilla but it was banana. lol.
just take 1 1/2 frozen bananas and blend them together with a small amount of almond milk or milk. yummy and easy and if you are on weight watchers you dont have to count it because fruit is zero points!
I ate a lot more food than this is the past two weeks but this is mostly all I captured on film. I will try and do better this coming week.
~ Jess