Saturday, February 11, 2012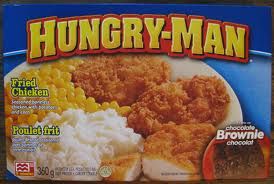 Soon I shall be going to the YMCA with my husband, John, to transfer his membership over to me as he is not using the facilities for health reasons. I am quite excited about this as this will give me more exercise options than what I have at home. I plan on going three times a week and I hope I can maintain the discipline to keep up with the routine.
Today, for lunch, I had a gianta Swanson's Fried Chicken dinner which contained 1030 calories. It also had corn, potatoes and a brownie in there. I have effectively used up all of my fat points for the day but still have about 230 calories left in reserve. That means it's going to be yogurt for supper. Why did I eat that, you ask? We rarely buy those kind of fatty foods, opting usually for Weight Watchers and it was a real treat to eat a Swanson's meal and fried chicken is my favorite meal. Due to the rarity of eating this kind of food, I decided on this treat. As I mentioned, I take medication which induces hunger and weight gain so I will make sure to eat that yogurt after I take the medication.
This leads into the discipline dilemma. We can track all the foods and water in our system, write in our blogs, join the communities and make a concerted effort to detail our future efforts at exercise. This is not an easy program. It is not a criticism but a notation that it takes some savoir faire and tutorials to familiarize one's self with SparkPeople. I've done all that and have yet to learn all there is.
Wouldn't it be awful to go through this effort just to give it up because it's too hard? Or because you are too hungry? Or just plain hate to sweat? Life is a sorry excuse without strong self-discipline and one might as well avoid the preparation of a healthy journey such as the one we are all undertaking if we don't muster our self-discipline. Are we always going to have it? No - but don't give up on those days. Just mark the day as a bad one on the journey and do better the next day. This is the thing about life. The journey doesn't end until you die and life is full of second and third chances. So if your discipline is not so good today, know it will be better tomorrow. Mine wasn't great yesterday. I exceeded my calorie count but today I am more determined to get back on track. The Swanson meal was not a lack of discipline but a treat - which we all deserve. The yogurt is going to be an exercise of discipline which I know I can accomplish. And, if I'm still hungry after that, I can eat a small amount of flavorless popcorn with a dollop of soy sauce as a snack which is not fattening as I'll still have a few calories in my repertoire after the yogurt.
Remember: discipline, discipline, discipline in everything in your life. You are not a failure if you fail to exercise it occasionally but your life becomes a waste when you allow your unhealthy indulgences to overcome your better judgment. As for me, because I see my role as part inspirational - I plan on being brutally honest as to when I have a "bad" day so you all know that you are not alone.