If I'm Quiet, it Means I'm Up to Something...

Friday, February 10, 2012
My mom always said she never worried about me, unless she couldn't hear me. If I was quiet, I was usually up to something. That pretty much still goes for today. I've been relatively quiet since my last vlog. Nothing's wrong. I haven't been suffering from Post Day 300 Blues. Nope, today is Day 313--the streak lives! I'm thinking of going ahead and shooting for 365; I figure I might as well. So, everything's all right. In fact, I'm having the time of my life. I've just been up to stuff, lots of stuff. Excuse me, while I gleefully rub my hands together. Muwahahaha.
I've been tied up (in a good way) on a big editing project with a group of friends. It's not Spark stuff, but it's kept me busy. I'm also working on several Sparky projects at the same time. I'm really excited about them, but they're not quite ready yet. Stay tuned. I know you're all glued to your seats, ha ha.
Anyway, I just wanted to give a holler that I'm still here. AND I wanted to share an incredible SparkDream that came to me yesterday. Here it is: Wouldn't it be cool to do a Sparkumentary someday?? I'm a total geek when it comes to documentaries; I actually like a lot of them. More than that, I actually like making those types of videos. Major Geek Alert. But I was thinking--wouldn't it be amazing, to grab my camera gear, hit the road and go meet my SparkBuddies in person? Really see you, hear your stories, do something fun together? I mean, WOW, that would be so cool!! I know what's happening now. You're all scurrying over to the bio section of your page, thinking, "Please tell me I didn't put my location on here. I just know Shelli's gonna show up at my door and make me hula hoop on camera." Don't worry. I won't. Yet. But isn't it fun to think about? Muwahahaha.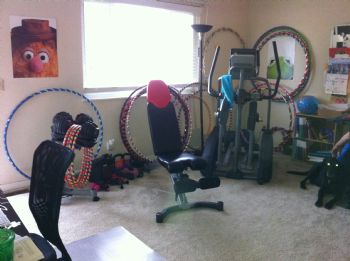 View from the Hoopatorium this morning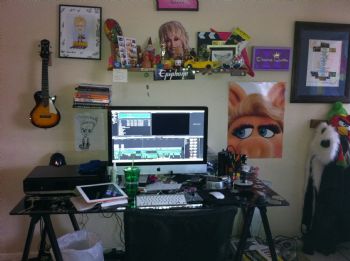 Where I plot and scheme, under the watchful eye of Miss Piggy.