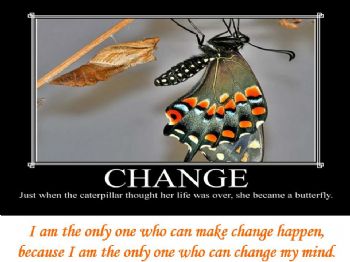 Todayís Affirmation: ďI am the only one who can make change happen, because I am the only one who can change my mind.Ē
Iím in the midst of great change; not only in how I look, how I feel or how healthy I am, but in ALL aspects of my life. It is almost impossible to extract and focus on one area without it having an impact on everything else. Itís just not the way the universe works. Think about that for a moment. DoesnĎt everything we do have an impact on everything else around us? We may or may not be aware of it at the moment, but at some point it will find its way into our conscious mind.
Change is not something we do once in awhile, change is infinite. If this is so, then the possibilities, too, must be infinite! We spend much of our time being our greatest enemy. From the very moment we arrive on this Earth, we are literally developed and written like a program by things that were said to us by our parents and close relatives, our teachers, and our friends. All of these experiences are stored in our memory and our brain, the very efficient computer that it is, and it is tirelessly and efficiently making conclusions about what we canít do, shouldnít do, or wonít do, and how you view your world.
All of these rules, aka beliefs, are what we see, our mirror of the world around us. If you believe that the world is full of nice people, you will mostly find nice people. If you believe the world is just out to get you, and take advantage of you, thatís what will happen. Your mind is so good at what it does that it will actually prove this in every situation by deleting any incoming information that does not fit with this theory, or it will distort it so that itís meaning changes to fit your belief. The mind likes and demands order. All this happens in a blink of an eye, and without any conscious effort on our part. Very rarely does it spontaneously tell us what we CAN do, what other choices may be available. Otherwise we would be a total a ďbasket caseĒ all of the time because of this inner conflict.
They become who we are, and how we project ourselves to others. What we need to work at remembering is that we are not stamped in concrete. Itís only what we think, aka believe, we are. Itís our limited perspective that has been written, formed, and postulated by those around us and our highly efficient mind.
These beliefs can be supporting for us, or limiting depending on our environment. If we were always told we were not pretty, then we believe that. If we lived and grew up in a critical environment where opinions and ideas where not allowed, then that is how we live; in the quagmire of those limited beliefs, and we tend to perpetuate them. Even if you recognize yourself in these beliefs, there may be other rules, that you are holding onto as true for you, but which are not supporting your true nature.
ALL OF OUR BELIEFS ARE ONLY THOUGHTS. Thoughts create how we see the world. But we can CHANGE OUR MIND. How many times a day do you think you change your mind? Did you change your mind about what you are wearing today? Did you change your mind about what to cook for dinner at the last minute? You might surprise yourself if you actually tried to tally. In fact, Iím thinking, we would lose count.
Anthony Robbins said that the past does not equal the future, unless you live there. If we continue to allow ourselves to live by the limiting beliefs of our past, conscious or unconscious, we will just keep repeating the results of the past over and over thereby reaffirming and reinforcing these stupid belief structures. Remember the movie, Groundhog Day? Perfect example. If you havenít seen it, itís a very good movie with a romantic twist. Focus on the solution to your problem, not its roots. The importing thing is to change our previous limiting beliefs to empowering beliefs, so that we are supporting and cheering ourselves on instead of standing in our own way. Itís not easy, but it is doable. Itís a very concrete visual of what this blog is about.
So today I am once again reaffirming that I welcome change into my life, and I have the power to change my mind. This is something I will have to focus on each and every day, no matter how dismal things may ďappearĒ to be in the moment.
"CHANGE - Just when the caterpillar thought her life was over she became a butterfly."
I want to be like the butterfly. How about you?
Thanks for dropping by!