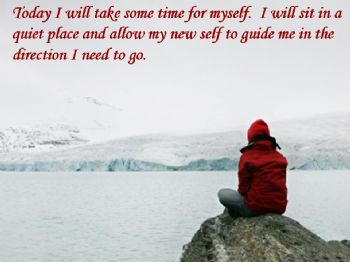 Today's Affirmation: "Today I will take some time for myself. I will sit in a quiet place and allow my new self to guide me in the direction I need to go."
We get so caught up in our daily lives that we forget what is important to us. WE are important to us - our well being. This is not an act of selfishness, but instead an act of love for ourselves.
It is important, healthy, and nourishing to give ourselves the same attention and outpouring of love that we give to those around us. In fact, it's not only important - it's essential. If we do not find some time every day to replenish our batteries, feed our soul, care for our needs, how can we find it within ourselves to do it for others?
How can we have the strength to become who we are trying so hard to be? It will not happen without getting in touch with yourself so that you know where you are and where you need to be.
We wonder why we stumble so many times when we try to move toward our desires, and berate ourselves for not being more, for not loving more, for not caring more, for not doing more, for not desiring more . . .
How can we? We've got absolutely nothing left - we are parched, we are literally dying of thirst -our own thirst for self nourishment, love, guidance, and understanding.
It would help us so much to be fully present and ready each day to face the challenges that await us; not only within ourselves but to help those we love, and those around us to overcome theirs.
We can do this by establishing a time each and every day to sit and do whatever we need to do, however we need to do it to tap into our endless reservoir of possibilities. It is only then that we can be fully prepared to meet life's endless daily challenges knowing that we have everything we need so that we, and those around us, may begin to blossom like the delicate, beautiful flowers that we are.
Thanks for dropping by!