Thursday, February 02, 2012
Today I weigh in at 270.2 exactly.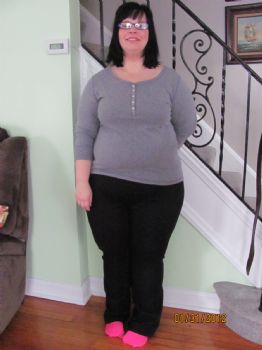 I hate this picture, but I've been hating every picture taken of me in the past two years. I'm posting it anyway. Here is a close up without glare on my glasses: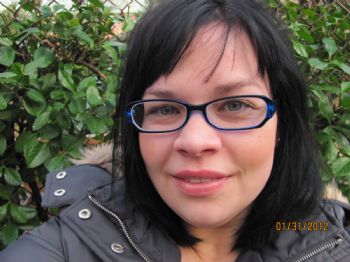 I commute daily to work in NYC- first I take a NJ Transit train from my home town to another station where I transfer onto the PATH train and take that all the way to Christopher. All together my commute is about 1 hour, which is usually completely bearable. However, I've grown to notice that people on public transit, already tired and cramped have a very low tolerance for fat people. Whenever I get on the train, eyeball a seat and squeeze myself between two folks- they give me dirty looks and act very "huffy". There's been ladies that switch seats and people that move to the very edge of the seat as if I took their seat too. By no means am I so big as to take two seats... or even one and a half- but people act as if I'm pushing them off. Not only do people expect me to never sit, but some people even get mad when I get on the train! Getting on the Path train during rush hour is difficult for anyone. The train is already packed and you pretty much need to squeeze and push your way in. Even though everyone else is rushing to get on- I invariably always get all the dirty looks.
Ever since I have started commuting, I have just put all this negative treatment in back of my mind, but honestly- it weighs one down. Two nights ago I came home to my boyfriend and completely broke down. People can be so petty and cruel- do they not realize that others have feelings? My decision is this: I will sit where I please and if people don't like it, well than that is too bad- the train is crowded and no one is completely comfortable anyway.
On that note, I will leave to work and hopefully have a decent commute today!