OK, I'm trying to get caught up after not blogging for awhile - I know, I know, I've been buried with semester start-up stuff and some of you may have thought I dropped off the face of the earth! But here I am, alive and well, and posting a bunch of unrelated stuff. Oh, well!

A little while back, I blogged about one of my successful thrift store shopping trips so 'by popular request' [ok one person asked!!], here's a picture of me modeling the brand-new Jones New York denim jacket I got for $6 - not bad for the price, huh?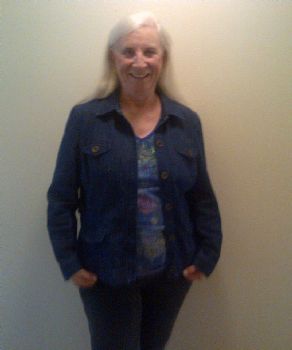 I've also mentioned that the Spring Semester has started and the week before students are back, we always have a bunch of meetings on campus. One is an 'all-campus' meeting and many years ago, when our college just got started, the tradition of having a lot of fun at that meeting began. It has turned into quite a hilarious event, esp since we have a couple of administrators who are fantastic at delivering 'dead-pan' comedy. One of those is our President, Juan Vasquez, who looks extremely professional and straight-laced but has a great sense of humor. Sometimes the jokes on him, though - this year we went through our usual silly stuff but there are super-serious budget issues going on and he had planned to talk about them a little bit. As he started to put the slide up, some music started playing, as if by mistake. It went on, then off, then on again and the second time, some of the employees jumped up and started dancing in front of the group - then more joined - yep, it was our own Flash Mob!! Most of the people who started dancing at first seemed to be part of a plan but eventually a lot of others joined in spontaneously. I tried to get a video of it but that didn't work so I snapped a couple of shots of it. Here's the group when it was just getting started, dancing to Celebrate Good Times!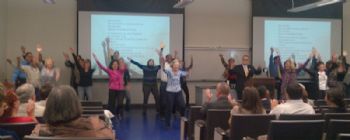 There was a wide variety of people in the Flash Mob - administrators, faculty, secretaries, maintenance people, deans, librarians, tech support - so it was great fun and very entertaining! Here is a cropped close-up of the head of admissions, our college president [in the suit] and the academic senate president. Yep, this is definitely a dignified bunch of people with great responsibilities!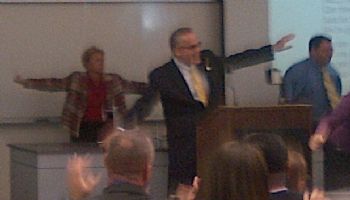 Changing topics - We had a couple of days of rain earlier in January and I put raincoats on the dogs - Princess doesn't mind hers, Moani seems to think they're silly [and it really is for her since she's short-haired and dries quickly!]. I don't know why I even bother since you can see in this picture that Princess got soaked anyway!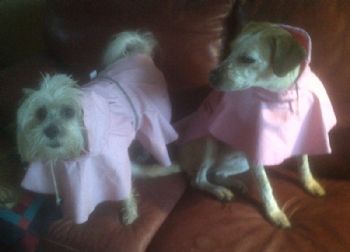 Fortunately, she knows how to dry herself off - if I put a towel on the floor, she'll do this on it but I wasn't quick enough and she decided to dry on the dog bed. Yes, I know she looks like a white blur but honest, that's actually how she looks when she dries off - just a white blur!
Changing topics again quickly, I went on a great 6-mile/1200' elevation gain hike yesterday, one I plan to incorporate as a regular part of my fitness program. On the way back down the hill, I hiked with one of the staff naturalists at the conservancy - I plan to go through the volunteer orientation training in a few weeks and the docent naturalist training a few weeks after that. She was quite interested in my experience with Sierra Club and other hiking groups as well as my teaching experiences and by the time we got to our cars, we had talked about a bazillion topics. She was really excited to know I plan to volunteer and was already planning the types of events she wants me to lead - of course, it's not a 'done deal' until I complete the training and pass the tests but I do not think that will be difficult at all since most of it will be review for me. I didn't take too many pictures yesterday but you can get a good idea of what a beautiful day it was!! I'll be doing a night hike here tonight but of course, it looks much different in the dark.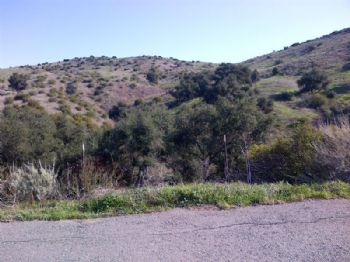 And speaking of hikes and volunteering, I volunteer with a group that takes inner city kids into settings where they can learn about the outdoors and/or our environment. I've been on outings with this particular group before but last Saturday we went to a park very near my house that has a zoo, nature center and many other attractions. Because of legal restrictions, I had to 'cut' the faces of the kids - sorry about that!! But you can still get a good idea about the group and where we were! This picture was taken inside the zoo after we had toured it.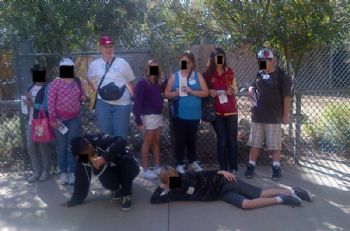 Now, I'm semi-opposed to 'zoos' esp if they confine their animals too much but this one is pretty different from traditional zoos because it has local animals who were disabled, injured, orphaned or otherwise not able to live on their own in the wild. The entire zoo is set up as a learning center geared toward kids and adults alike. One of the things we did was complete an educational 'scavenger hunt' puzzle that required gathering information from different displays around the zoo - our 'prize' for correct completion was a sew-on patch. So it really is a great place for teaching kids - and if these animals weren't here, nearly all of them would have been euthanized. For instance, one of the residents of the zoo during the 90s was quite a celebrity, although he has passed on now - here's a link to the story about Samson The Hot Tub Bear.
hikertechnologies.com/sa
msonhp.htm
They also have a 'petting zoo' with animals who have been kept illegally as pets or who had some other problem that brought them here. For instance, there are bunnies who were rescued from the animal shelter after nobody adopted them. Here is a goat that obviously adores living there and loves all the attention he gets!!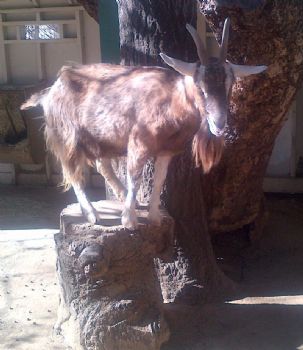 After we finished our tour of the zoo, we had a 'bring your own' picnic lunch. I was quite impressed at the kids who were very enthusiastic about this trip, talked about what they liked about it and past trips, eagerly discussed some future trips [I'm trying to get invited to the whale watching next month!!] and it was a really nice lunch. I was glad to see that most of the kids had fairly healthy lunches - in fact, one girl took out a 'strawberry granola yogurt bar' and announced 'this is the equivalent of a glass of milk' - one of the other girls grabbed the package, read the label and argued the point. Keep in mind, these are 5th graders!! The first girl then said, 'well, at least it counts as a fruit' and another girl countered that she should really have more fruit than that 'to make it count' and shared one of her extra pieces. I was very impressed - the teacher has done a GREAT job trying to teach them to eat healthy - by the way, most of these kids are from very low-income homes with a single parent so to me that makes it even more impressive.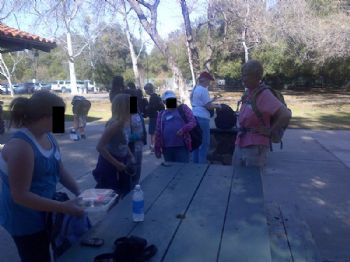 Of course, when you have a group of active kids on a beautiful afternoon in a park with lots of trees, whaddaya do? Yep, you got it!! There was a bit of a learning curve as they figured out how to master this one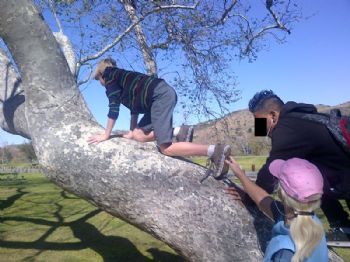 But it wasn't long before they were 'all over it'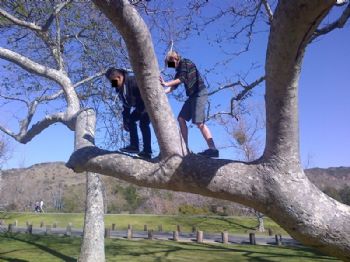 And the girls were not at all going to be outdone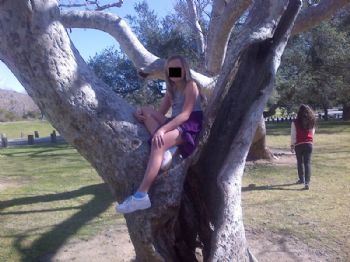 Most of them ended up in a tree at some point!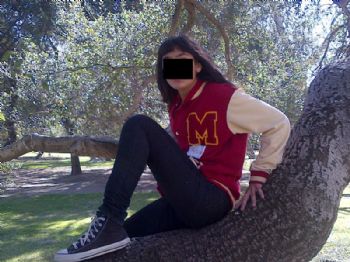 After burning off a little bit of energy, we headed over to the nature center - we had actually planned a hike but two of the kids were injured in sports the week before our outing and unable to participate so the whole group chose alternate activities. The nature center is small but really fun and totally geared toward kids!! Here's one of the girls posing with a bear, which they all had a lot of fun doing!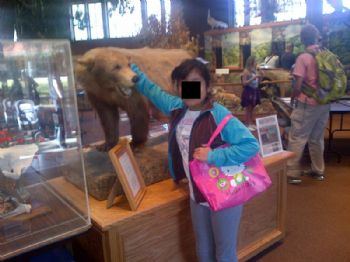 Among the more fun exhibits in the nature center is a series of 'holes in a shelf' - the idea is to stick your hand through and see if you can guess what you're touching. Then you can lift the lid and see what it was. Here's one of the other leaders trying out the process - There are pictures to help you guess but it was actually harder than you might think and they have all sorts of neat things such as tree bark, animal fur, feathers, etc.
Anyway, it was a very fun day with kids and I really love going out with this organization, although I don't always get to go with THESE kids - there are quite a few and various ages as well as various types of activities. I don't have a regular group of my own so I just 'float' and help out whenever they need me - but it's ALWAYS been loads of fun and quite a privilege to serve in this capacity! I mean, after all - what could possibly be more fun than this??