Wednesday, February 01, 2012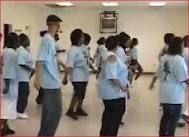 Good Hump Day Sparkfam!! I must make a confession: I went out to meet my brother at a party where he was the dj & fell in love with the new slide dances that they are doing. They remind me of the electric slide & shuffle line dances. They are a little bit more complicated to do so I am watching on youtube to get the foot work down so I can add them as exercise. Level of difficulty is HIGH! I love of all them but would I go to the club to do them probably not but the next summer bbq spring fling it's gone be on & poppin! lol Copy the link & place in browsing if you feel like pumpin it up or you have fancy footwork? With these I see to have 2 left feet that apparently meet somewhere in the middle. lol
http://www.youtube.com/watch
?v=JtWWtH0J-j8&feature=end
screen
Today got up early, cleaned bathroom, fed dog, gave him fresh water then did my workout. Its the 1st of February so I am bringing it! I did step aerobics for cardio & did 30mins of legs & gluteus. I need to do some more cardio & extra upper body work, like dips & push ups. I really am trying to keep up with my exercising. I didn't do too bad on food today, I had 2TBSP guacamole dip with sour cream & 10chips with a small side of chicken enchiladas. It was so good especially since I didn't have breakfast. I wasn't that hungry so it was okay, I drank plenty of water to keep myself hydrated.
So its hump Wednesday & the dancers are ready so get in line & do the slide! Whichever one you like & don't forget to add it to your workout today. lol

God bless & make it happen!
Dee