People have all different reasons for joining Spark and wanting to get healthy and fit. Mine was in Spring 2008. I was looking at some photos from my mother-in-law's birthday party. (You'll notice I have cropped most of the heavier parts out ;o)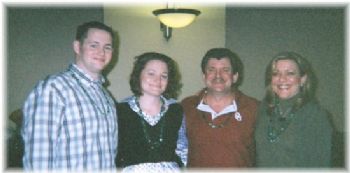 I explained to my husband, that it was the lighting that made me look heavy and the angle … and really who took pictures at the angle anyway?? And my husband said, "Well, it's not just that you LOOK heavy, you ARE heavy." Then, before I could pick up anything heavy to throw, he continued, "Not that I care, it's your choice. But don't blame the camera." Yep, he just said that. It was not necessarily mean-spirited, but there it was. It was the same day my Size 12 pants were getting snug. It was about 6 months after I had put my Size 10 shorts away for the Summer. It was the year after I started working from home. I decided I was fat.





I joined an exercise class and I joined Spark People.
The exercise class was pretty eye-opening. An hour of strength training, basic calesthenics. I was winded 10 minutes in. I couldn't do more than 10 crunches. And entire situps ?? Did people still do them? I couldn't believe anyone could do them. I laughed with my friend laying exhausted on the exercise floor next to me. (She was also not crunching … We had a long way to go.)

I started tracking my food and my exercise here every day. I think that was the single best habit I've gained here.
After that, some things were about portion control.
For instance, Measuring cups …
WOW, that was a great investment of $1 from the Dollar Store. I was amazed at how I was underestimating the amount of food I was eating. They helped me track my calories more accurately.
As time went on I stopped adding salt to food. This eventually turned into reading labels for sodium content at the store. I noticed that when I could consistently keep my sodium below 1800mg for the day, I lost weight faster. I also noticed that when I ate at least 50 g of protein for the day, I was less hungry. And I strived for …. Veggies at least 7 servings a day. (And who knew freggies was a word??) I keep veggies cut up in the refrigerator and they are ready as a "go to" snack or to toss in for a quick stir fry.
Then,

there were also a few things that just had to go. Some people will tell you everything in moderation ... and that might be true. But for me, there were a few things that held back my progress. And i just knew it was right (for me, anyway) to give them up. Lunchmeat, Beer, cheese. The time had come that I liked losing weight more than them ;o) Ok, actually, cheese seriously had to go for months and months. I used to eat a block of cheese (8-12 ounces) in a single sitting as a snack. There was no moderation for me with cheese. But, now , every once in a while, I'll have a slice of low fat cheese on a sandwich … and, having been without it for a while, most times the sandwich tastes just as good to me without cheese.
Beer became wine. Cooking in bacon fat or butter turned to No stick canola spray. Pork bacon became turkey bacon. I started eating 1-2 meatless meals a week. I never was much into soda … but DH kicked a huge habit of 6-8 cans a day and went to water.
I learned I am motivated by a Challenge. Yep, the words were embedded in the BLC team, and it's been just exactly the format to keep me progressing and moving. I learned I'm motivated by all things visual. I keep Pictures everywhere. The ones where I look fat, and the ones where I look thin and fit. I learned I sometimes eat because I am avoiding doing something else … And, I am a procrastinator. I now make a "to do" list breaking things down into 15-30 minute tasks. Making it easy to get items crossed off during the day, and it's easy to see at a glance, if I have a free 15 minutes, what I might be able to cross off. It feels good getting things done. And it's hard to procrastinate when everything is a bite-sized 15 minutes at a time.
Exercise – I love it now!! I love trying anything new. But my favorites are kickboxing, Zumba, ST, and walking. My workouts are mostly group classes. I used to say that I couldn't exercise because work had so many emergencies and it was hard to plan a schedule. Now, at the end of the work day, I tell everyone I have to go ... I have class.
I find I have gone from "Live to Eat – to Eat to Live"
and also, more subtly, from "Live to Work – to Work to Live" too ...
I don't check my email or my work phone when I am on vacation.
But I do log into Spark People.