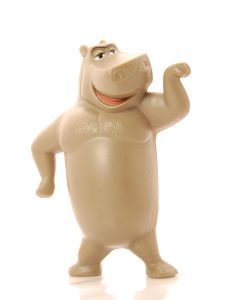 I was so bummed when I came down with a cold on Wednesday, because I've been making really good progress! My upper body is so frail that in two weeks, I've made noticeable gains in both strength and aesthetics. I've seriously had three people independently tell me that my arms and shoulders are looking really good. :D I can't wait to get to a full chin up. I'm so going to post a video to show me and my guns off, lol.
I didn't do well on my food plan while I was sick. I didn't feel like doing anything and nothing sounded good. I ended up digging into a jar of Nutella that somehow survived the Great Pantry Purge, and getting Panda Express (...on white rice at least, not gluten-containing noodles) for lunch.
In retrospect, that was really dumb of me because I have tons of homemade chicken broth. Isn't that what you're supposed to eat when you're sick? For some reason I wanted nothing to do with it!
Anyway, I'm feeling much better today. I'm proud that I took two days off and, once I started feeling better, got right back to my routine by going to kickboxing this morning (and taking it easy).
I kind of have to, because I'm testing for my orange belt tomorrow.

I really hope I survive the test, it's brutal! And I get super nervous at belt tests.
For those of you wondering about all the "primal" food talk going on here, I thought I'd pop up a quick summary with a couple links if anybody is interested.
My personal definition of primal is eating mostly meat and veggies, healthy fats, and some fruits, nuts and seeds. I avoid grains and gluten, refined sugar, and polyunsaturated vegetable oils (like corn and soy oil). I also think probiotic foods are important, like pickled vegetables, yogurt, etc.
From a macronutrient perspective, for me, a 5'8" female at ~150lbs, this ends up being less than 70g of carbs per day, a MINIMUM of 70g protein a day (I prefer more like 90g+), and healthy fats make up the rest. Total calories, eh, maybe 1700-2200? I'm pretty active, I do martial arts in the evening 6 days a week and fitness classes in the morning 5-6 days a week.
So yes, it's sort of a low-carb diet. But more importantly, it's a whole foods diet. You'd be surprised how many processed foods have wheat, sugar and polyunsaturated vegetable oils in them, so eating this way boils down to a lot of cooking for yourself at home. However, it usually tastes better than getting it from somewhere else, plus you don't end up with the gastro distress you get sometimes from restaurant food.
If you want to read more, here are some more sources of information:
Marks Daily Apple (website)
www.marksdailyapple.com/
Weston A. Price Foundation
www.westonaprice.org
Archevore: Paleo 2.0 (website)
www.archevore.com/panu-w
eblog/2011/3/30/paleo-20-a
-diet-manifesto.html
Sugar: The Bitter Truth (video)
www.youtube.com/watch?v=
dBnniua6-oM
Good Calories, Bad Calories (book)
www.amazon.com/Good-Calo
ries-Bad-Challenging-Conve
ntional/dp/1400040787
Fathead (documentary)
www.hulu.com/watch/19687
9/fat-head