Wednesday, January 25, 2012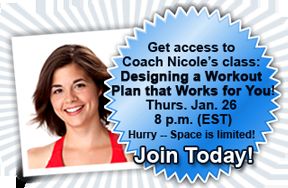 Greetings, SparkPeople!
I hope you are all having a great 2012 so far. I know I am! We're getting lots of wonderful feedback about the new 28 Day Boot Camp DVD, and I hear from member everyday who are having a blast in SparkPeople's January Jumpstart Challenge. Keep it up!
I wanted to write quickly to let you know about the SparkPeople LIVE! class I'm leading tomorrow at 8 p.m. EST. I'll be covering the topic: "Your Perfect Workout Plan: Designed by You, for You!" Basically I'll cover how to fit in cardio, strength training and flexibility to suit your needs, goals and schedule and how you can create your own plan for the week that's safe and effective. If you want to attend, space is limited and there are only a handful of spots left for the live class on Thursday. However, the class will be recorded for future access. Either way, you have to be a SparkPeople LIVE! participant in order to participate. Here's the info you need:
SparkPeople LIVE! Online Support and Motivation Meetings
take place in an online, video chat room, so you can join right from the comfort of your home! You will not only see other SparkPeople members but also to chat with, laugh and learn from them, too. (Note that you don't have to have a webcam or choose to be "seen" in order to participate.) With your paid membership, you get exclusive access to Special Events just like this one, as well as unlimited weekly classes covering relevant topics like weight loss tips, fitness, motivation, cooking and more!
To attend this class, you must be a member of SparkPeople LIVE – registration is quick and easy! Plus, you first week is FREE and you get 50 SparkPoints and a 20% off coupon to the SparkPeople store just for signing up! What do you have to lose? Here is the link for you to get started today:
www.sparkpeople.c
om/myspark/live.asp
I hope that you can join me tomorrow! I am looking forward to answering your questions and sharing this useful topic!
Coach Nicole