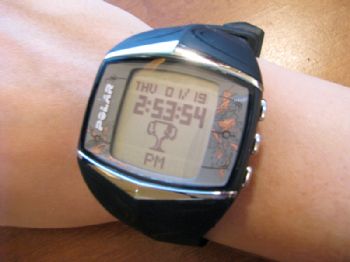 So I've been using my Polar FT60 heart rate monitor (
amzn.to/L026Vd
) for a few weeks now, and I think I'm ready to report back on it! I'm pretty damn pleased so far.
First, the initial set-up. I turned on the watch and input all the settings: language, time, date, units (pounds/feet), weight, height, birthday, and gender. Then I familiarized myself with all the buttons, of which there are five. I created a training program and chose "lose weight" as my goal (the other options were "improve fitness" and "maximize fitness"). It then informed me that my weekly target for calories burned was 2550. It also gave me a time target for each intensity zone.
There are three intensity zones. Zone 1, the lightest, improves basic endurance and helps recovery. Zone 2 improves aerobic fitness. And zone 3 increases maximum performance capacity. For me, the heart rate ranges for each zone are as follows.
Zone 1: 117-136
Zone 2: 137-155
Zone 3: 156-176
To finish setting it up, I had to do a "fitness test" -- lie down for several minutes while wearing everything. This measures VO2 max, which is defined as "the maximum capacity of an individual's body to transport and use oxygen during incremental exercise." I scored 51. For my age and gender, that puts me in the "elite" category -- yes, THE BEST ONE. The age range is 25-29 and any woman who scores over 49 is considered "elite." WELL THEN. I'm still going to measure it periodically, though, since I love adding things to my "custom measurements" on Spark.
Before a workout, I wet the electrode areas of the strap, attach the transmitter, and hook it around my body, right under my boobs. I hope that's where it's supposed to go, anyway... the manual is of absolutely no use because it assumes I'm a man. "Just below the chest muscles," it says, with an illustration of a buff dude's chest.
The strap is fairly comfortable and feels like the bottom of a tight sports bra. The watch isn't terribly comfortable, but it's bearable.
During the workout, I can toggle through various screens showing me my heart rate, calories burned, the time, the percentage of my weekly target I've achieved, and which zone I'm in. I can also "lock" a zone, so that it chirps at me whenever I fall out of that zone.
When I finish a workout, it gives me all my stats, of course, and then it will tell me which things I'm improving, such as "fitness improving," "fat burn improving," "maximum performance improving," or any combo of two. It derives this from the amount of time I spend in each zone.
I was surprised -- and relieved! -- to find that my calories burned weren't too far off from what the elliptical has been telling me all this time. It depends on how hard I work out, but the difference is not nearly as ridiculous as I'd been led to believe.
It's easy to access training files and weekly summaries, although I wouldn't use the watch as the only place for tracking my workouts.
After a week of use, a cute-ass envelope icon appeared on the main screen. When opened, the HRM told me "good training week" and suggested that I "train less in zone 3." It also prompted me to update my weight, and it gave me new targets for the following week. The next week, when I met my goal of training less in zone 3 (THAT was easy), the HRM was even more excited, and it rewarded me with an on-screen trophy for the week. This is probably my favorite thing about this device. I didn't think it would be much of a motivator, but it is -- I'm motivated by not wanting to disappoint my HRM!
In conclusion...
Pros
* Easy to use, once you read the manual.
* Knowing exactly how many calories I'm burning is AWESOME. I could even use it for strength training, if I ever got off my ass to do strength training.
* The zones are a great way to push one's self.
* I feel more motivated to do as the HRM says.
* As far as I know, there's no way to manually input calories burned. You have to actually burn them. NO TRICKERY.
Cons
* It costs $140.
* It would be nice (albeit a little weird) if it talked rather than chirping. Then I'd know exactly what it was trying to tell me.
* The watch isn't very comfortable.
I don't think that people just starting out would really need a hardcore heart rate monitor like the Polar FT60 (
amzn.to/L026Vd
), but for someone like me who has been at this for a while, it's awesome.