Coach_Nicole's newest 28 Day Bootcamp Video
Tuesday, January 24, 2012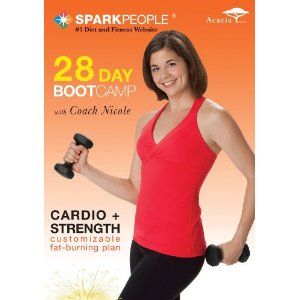 I was one of 250 SP members to win a free 28 Day Bootcamp Video - the only stipulation was that I must blog my review of it after giving it a decent trial run.
First off, I really like the professionalism Coach_Nicole shows from the Introduction through the workouts. She speaks clearly, plainly and slow enough to know what she is saying.
www.sparkpeople.com/mysp
ark/28daybootcamp.asp
Did I have trouble keeping up? In a nutshell, yes! I am not in shape

Do I think it is a decent workout? Again, yes!

Was I able to do it?

Not exactly

Did I mention I am out of shape?

Ok, now to tell you the rest of the story. This is no more difficult than me trying to follow the various steps in "sweatin to the oldies" - it is just different than anything I have tried before. With time and repetition, it will get easier to do and there is plenty of challenge to keep it as a great workout for a very long time.
Since losing the weight, I can no longer jump - at all. It hurts - a lot! However, I can raise up on my toes and at least it almost simulates jumping.
I am not sure what was expected of me when I was sent the Workout Video but I will rate this as a solid workout for just about anyone to attempt - I know it will make me stronger and more agile and it will work those muscles!!
www.sparkpeople.com/mysp
ark/28daybootcamp.asp