Then and Now: A Photo Blog of 100 Pounds Lost

Saturday, January 21, 2012
This morning I sifted through hundreds of photos to find some "before" pics. Since I artfully avoided the camera for the past several years, this was a difficult task, but I managed to locate a handful of them.
Looking at those pictures of myself at nearly 250 pounds drove home what a difference a hundred pounds really makes. So I put together this photo blog to share my journey with you, dear Sparkies.
I have been SO looking forward to this first one. Early in my journey, I decided I would one day snap a photo of myself in my "fat" jeans, but with both of MY legs in one pant leg. Well, here it is, displayed right next to me wearing those same jeans just over a year earlier.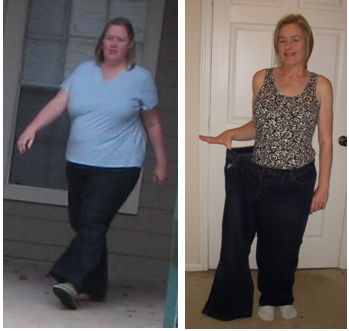 Next, hubby and I re-staged some photos from when my son was a baby. It was actually fun to do, and the changes are magnificent.



One more...
The picture on the left is my "professional" picture I used whenever one was required. The one on the right was taken today.
I no longer struggle to tie my shoes or to get up off the couch. I no longer live with constant pain in my back, knees, and hips. But beyond the physical changes, I am truly a different person today. I am happy, healthy, and optimistic about the future. And I have learned I can accomplish ANYTHING I set my mind to do!
Reaching my goal weight is not the finish line. Rather, it is the true beginning of my journey. And I look forward to the adventure.