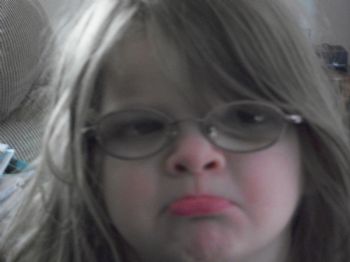 YES, I can post this picture..I took it!
I don't know what kind of reaction this is going to get, but FEEDBACK is important to me if you care to leave some. No pressure to do so! Also good or feedback is fine, I shan't take your opinion personal if you disagree.
I got an email awhile back from a friend here on SP stating that she found one of my blogs inspirational and that she sent a link to her Facebook account. She was extremely excited to share my news of losing weight and my story. I didn't know how to react. I was shocked, angry, frustrated, delighted that she thought my story was worth telling and sharing, happy to have a friend who cared about me enough to try and find me more support, BUT mostly I was upset and hurt. I felt she should have ASKED me to share my thoughts and fears with others. I share with you here because you all have a story not unlike mine own in some respects.
See, I have a FB account. I have never once invited anyone from FB here or SP to there for a reason. I have more friends on FB then I do here, but those people don't know the struggle I go through there and for good reason. In some of my blogs to SP I have given very personal details of my life I have not shared with many people in my life.
I felt SP was my sounding board...wait actually, my safe haven!!! It is a place I can come, be the real Kristin, be honest and open about my weight and not be ridiculed for it. See not that I think my friends will blast me out of the water or try and hurt me purposely from FB, but it is the others that you encounter there that you have no idea who they are. YES, I know you can ignore them and blah, blah, blah. I get that. So please do not restate it. However, FB is something I don't use that often because anyone can search you up and find you this way.
I have been in a horrible situation in life where I don't want people to be able to find me so easily. So, I stay off there more often then not; the exception is to interact with close family members or old friends. Still I do know this is a public forum so I am careful in the details I leave and messages I write. I was so sure SP was different. For some dumbAZZ reason I believed that this was a private community. When I signed up, it asked me to use a username ...why did I think that meant that everything I did here was private under my real name. So why when I googled my real name, did I find my SPARK PAGE???????????? Because I guess I didn't protect myself well enough. PLEASE be clear, in no way am I blaming SP for my foolish naivety.
I am irate at myself, my SP friend, FB intrusion of what I thought was my world, a safe haven to call home. I am tired of FB taking over Spark People and so many people confiding that they no longer feel comfortable posting blogs and the fact that FB has anything to do with SP. I know, I know, there are people who say, DUH KRISTIN! What did you think would happen? That was the problem, I didn't think this process over well enough. At this point the only thing left to do is leave SP, but do I want to leave such a supportive group of friends? NO!
Long story..not short..just long..My question is...Am I the only one who feels like this? Did my friend have the right to send my story to others on FB? Is this an overreaction?
I would be happy to pay monthly for what I receive here at SP so if they need the money that would be so much better than having to advertise through FB! I have sent a few people this way and I am happy to say that they have joined on their own without my prodding. I will continue to support SP because it is an amazing site and because I love all of you.
If you made it thus far, thank you for taking the time to read my rambles of frustration.
Hugs to all my friends!
Kristin