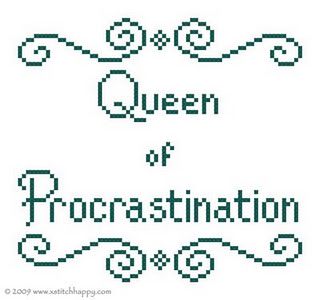 Oh yes, I am the Queen of Procrastination. It has long been a problem of mine. What I have been thinking about today is whether or not I procrastinate or just over commit myself. Probably a little of both. I need to look at both of these but today, it is procrastination. Tomorrow (there is always tomorrow) I will address over commitment.
I used to be a great list maker when I worked. Time was precious and I only had so much time to get done what I wanted to get done. I am beginning to think one of the worst things about Retirement is that it actually gives me more time to procrastinate. Yie, yie, yie! ....and, I quit making lists.
What is behind my procrastination. I read an article today that said there were 3 things behind procrastination.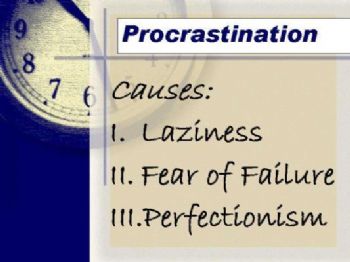 # 1.) Laziness - maybe a little but after all I am retired. I earned an afternoon on the couch watching day time TV. After all, look at all I missed over the years. Right? NOT!
#2.) Fear of Failure - No this doesn't apply to me. I do what I can do and then tomorrow go for more. I succeed when I put my mind to it and I am not afraid of failure - have long considered it a pathway to success.
#3.) Perfectionism - BINGO - This applies to me 100%. I have a scarf to make for my DIL and it has to be done in 3 weeks. Now, you know a scarf, Crocheted or Knitted, doesn't take that much time and I have had the yarn since Christmas. What is wrong with me? I know - I want it to be perfect. After all if it is perfect then I am perfect. NOT!
I really need to work on this - don't I? I will make a list of the goals I want to accomplish tomorrow (woohoo - making a list again) and first on the list will be my exercise - get into my shoes and get on the treadmill first thing. I volunteer at the hospital tomorrow so second on the list is to honor my committment to the Hospital and show up ready to do my job. Third on the list is to take my yarn with me and if it is slow in ICU, I can get a good start on my DIL's scarf.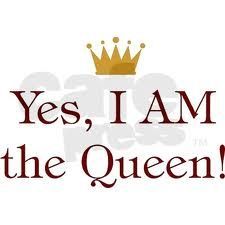 Yes, I am the Queen (that is what DH and the Boys call me) but I am taking off the crown of Procrastination and putting on the Crown of ACTION.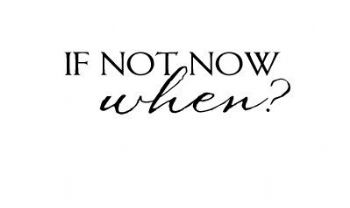 I want to change way of doing things from when to now?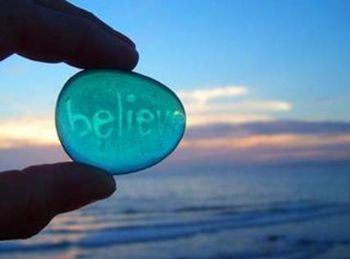 I not only believe I can do this - I know I can!
Hugs, Sunny