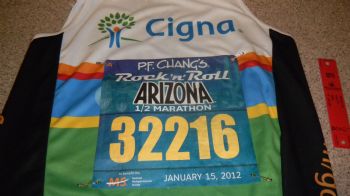 So after a lot of rest and consideration, I decided to run this event. It was only 8 days after my last half marathon, so I had not been sure I would do this one. However, after a week which was very stressful, but during which I had gotten a fair amount of sleep and kept my workouts fairly short, I decided I needed to give this a shot. Running is my stress reliever, and I needed that this week.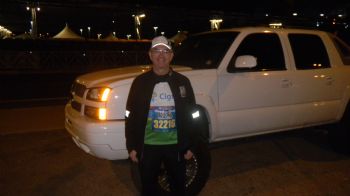 I ran as part of the Cigna team again, although there were nowhere near as many of us at this event. One of the others took this picture of me while we were gathering before the start.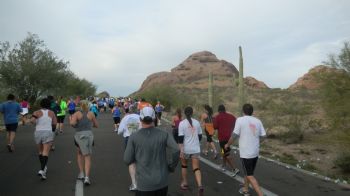 The course for this event changed this year to a loop course starting and ending in Tempe near Arizona State University. This first 9.5 miles were gradually uphill, and then you lose all that elevation in the last 3.5 miles. The picture above is from just about the top of the climb near the Desert Botanical Gardens and the Phoenix Zoo. I actually did quite well and felt good for the first 5 miles, but then it became apparent I was going to have to back off the pace and just be satisfied to finish. By the top of the climb, I was having to really take it easy.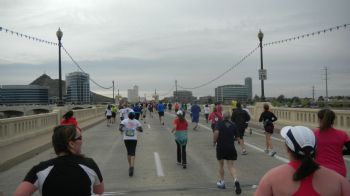 The picture above is from just after the 12 mile mark, going over the Mill Avenue Bridge back into downtown Tempe. The university and the finish line are across the bridge and then off to the left. As you can tell from this picture, it was quite cloudy throughout the run, but fortunately it didn't rain.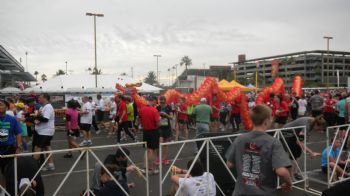 At the finish, I was about 15 minutes slower than I had hoped for, but still happy to have finished. I took the picture above just after I crossed the finish line. This 8 person Chinese dragon ran the whole race and finished a little faster than I did!
After the run, I have to admit, I was really stiff and sore. It probably wasn't the greatest idea for me to do two half marathons this close together, but I definitely feel more relaxed and less stressed today! My next half marathon isn't for a little over a month, so I'll be much better rested and prepared for that one.
Have a great week!