Sunday, January 15, 2012
It's been 15 days since I started this life change with my daughter. So far it has had it's ups and downs. Mostly ups. We started out doing the 7 day Kickstart from the Carb Lovers Diet and drinking any where's from 8 to 12 glasses of water per day. We both lost quite a bit of weight. It's hard to follow a diet like this with being on a budget and some of the food I have never even heard of. Although with a little tweaking I've made it work for us. It's harder for Heather being in school and drinking her water. I don't know how she does it with having to pee all the time :) I used to hate getting up in the morning. Now I wake up every morning at 5:30 without an alarm. It's great! I make Heather's lunch and then our breakfast and if there's enough time we do 2 miles with Leslie's. It has been a like change unto it self doing this with Heather and having someone to be accountable too.
As of today Heather has lost 11.8lbs and I have lost 8.2lbs. Our goal is 50lbs lost by June.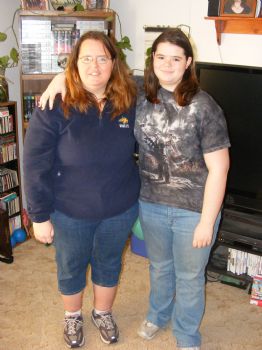 This is our before picture. Will post an after pic in June