Fighting the urge
Saturday, January 14, 2012
I almost didn't walk today.
Alarm woke me up later than I wanted and it was coooooold.
I decided to go to a place that I could walk a 3 mile lap in case the weather got too bad.
In the end I managed to walk the 12 miles, but the last 1/4 mile was in snow.
Glad I did it, but even more glad when I was done.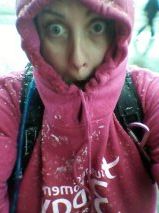 Now I'm home with a fire going and kitties holding me down on the couch.
Thankfully I can post this from my phone.
Maybe I'll clean house...or do laundry.....or make a zzzzzzzzzzzzzzzzzzz.....