I had a nice lie in until 9:30am this morning then got up to BodyRock.
Today's workout -
www.bodyrock.tv/2012/01/
13/day-5-week-2-of-the-30-
day-challenge-blue/
BodyRockers SparkTeam -
teams.sparkpeople.com/bo
dyrockers
Today's workout was a time challenge of 600 reps. It looked like this -
100 High Knee Skips
100 Lunge kicks (50 each leg) (10kg)
100 High Knee Skips
100 squats (10kg)
100 High Knee Skips
25 Straight Abs
25 V Abs Left
25 V Abs Right
25 Bicycle Abs
Whew! Was gutted that I messed up with my timer. That'll teach me to use touch screen on my phone hey?? Think I'll try to use the Gymboss from now on. So I don't have an official time... Hubby called it at 10-15mins lol, so that's all I have.
Next was Sean's weighted workout. Thank God it wasn't as killer as his usually are.
3 mins of maximum Bicep Curls (10kg) = 55
3 mins of maximum Bent Over Rows (10kg) = 55
I lowered my weight today, tiring too fast.
Chuffed to have gotten my workouts in! Oh and then I did 14 burpee's for January 14th. Post-workout again hehe. It's getting harder!
Had a brunch of spinach and mushroom omelette with a little ketchup. Very tasty indeed. I'm tired now hah, might have a nap sometime, before going out tonight. Lazy day off today.
Oh and one last night - I joined Graze this week. Graze is a UK thing, I'd seen it a few times and thought about joining. They send out some healthy snacks in great portions to save you having to go out and buy everything and put it together. Check out
www.graze.com/
if you're interested and would like to know more. I'm loving it so far, the snacks are perfect for me for mid-morning and mid-afternoon, and they're there set up right infront of me, instead of having to buy all these ingredients (expensive!) and decide what to do with them - they're ready made up punnets of lots of fun little snacks! So far I think it's quite reasonable too on cost.
This was my first delivery -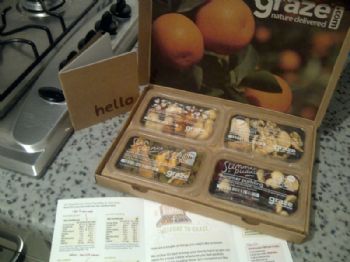 Can be seen better here -
i48.photobucket.com/albu
ms/f224/crazyishbitch/Live
rpool-20120111-00606.jpg
And my second delivery here -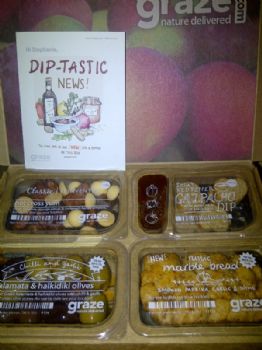 Again, seen bigger and better at this link -
i48.photobucket.com/albu
ms/f224/crazyishbitch/Live
rpool-20120114-00609.jpg
They're funky little things! :) So if you're interested ... I have some FREE box codes (which yeah, I can get a price reduction if I give out) if you'd like to try. I was happy to try for free! :D
Sooo if you'd like a free try, check out this link which has my code in already which gives you your free box -
www.graze.com/p/TBQKFNN
(The code is TBQKFNN if the link doesn't take your straight to it)
I'm not good at explaining things but the site explains all, they do different types of boxes depending on your diet etc.
Sooo... happy Saturday Sparkers!