Tuesday, January 10, 2012
OMG. I just realized I haven't posted a blog since October.
Where to begin..
Well, I quit my desk job and now am mostly stay at home. However, I just recently started teaching my ZUMBA classes! I'm very excited for these! I had 25 turn out to my first class on Monday morning! Woo! I had great feedback as well. So I'm quite happy.
I'm also attending local bootcamp classes with a fitness trainer who trains athletes. It is hard, but sooo much fun.
I want to let you know that I haven't lost any weight in three months. I haven't completely fallen off the wagon. I haven't gained more than a pound or two, but I'm ready to get back on track.
Now that I'm teaching Zumba I can feel some of the pep coming back. It was quite stressful for me to quit my job and have to live alone while my husband works away three months at a time. But, I'm on a roll now.
Just wanted to post this pic as a reminder.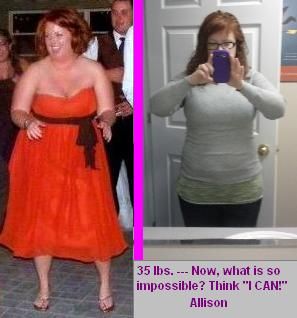 Love you all!
Allison