Sunday, January 08, 2012
Belts. In my life, they have always been something to hold up a pair of pants. Needless to say, I didn't have much need for belts before I began my Spark journey! Life was more about worrying that laundering would shrink my pants too small. Now that I've reached my Spark goal, I have the opposite problem - I need to wear a belt with all my jeans and launder after each wear if I want to keep the new form-fitting look that I prefer these days. But this is still just a "hold my pants up" kind of belt, worn through the belt loops and under my top. Therefore, I found it symbolic to celebrate the completion of my first Spark year by wearing a belt today. And I wasn't wearing the belt to hold up some pants. Nope. Today I wore a belt as a FASHION ACCESSORY. Yuppers - me, willingly choosing to sport a belt, purely as a fashion statement. Sheesh! If that doesn't signify change, nothing does!
You see, yesterday there was an article in the Style section of the paper about belts. Apparently belts are "in" on the fashion runways. Unlike other years, where belts' fashion correctness was determined by width and placement, apparently ALL belts of ALL sizes and ALL placement are a hot commodity for 2012. When I read this, I groaned. I have never had an hour glass figure. This is no reflection on my weight or excess flab - I've always been kind of "straight" through the waist and hips, and high-waisted, with no motivation to accentuate this feature via a belt. This was true even when I was a young thing who was 5'8" and weighed 135 pounds, as opposed to a middle-aged woman whose Spark goal achievement still mandates further work on her post-50 mid-section.
Today though, I decided that since my waist wasn't worth highlighting, I could still try out a belt as a fashion accessory by wearing it low, since my hips and thighs are now trim enough to wear form-fitting garments. So I donned my wool tulip skirt (I think that's what you call it when the skirt fits close in the waist and hips, but flares out right above the knees). I put a slightly long sweater over the skirt, zipped up my boots, and slung a Southwest-inspired belt around my hips. Woo hoo! Off I went to a post-holiday party, and it must have worked because I got lots of compliments from guys and other women.
So - here I was before I started Sparking. Not sure I could have found a belt to wear, even if I wanted to: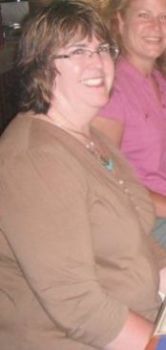 And here I am today: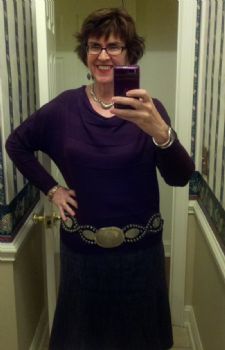 Happy Sparkversary to me!