Sunday, January 08, 2012
My bestie sparkpal Michelene blogged the other day about how we love to hate the scale, this got me thinking. What is my earliest memory of the scale????? I was 8 or 9 and my mom took me for my annual exam at the pediatricians office he mentioned that I was about6 lbs ovewrweight, my mom put me on a diet that summer, I lost 5 pounds. I have included a picture from that summer.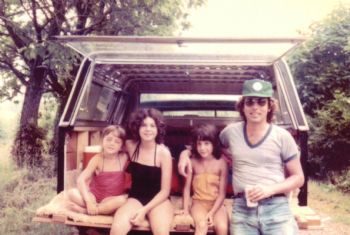 that is me on the far left. I hated that scale, because that scale was the enemy. Depending on what that scale said determined what I could eat and how proud my mom was of me.
My next scale memories are my least favorite. during my high school years my mom would put me on the scale and proceed to tell my father and sister if I gained weight, bear in mind I started high school at 97lbs. and ended at 118lbs. I also went from an A cup to a C cup. My mom told me constantly how "chuncky " I was. I hated that scale it became the measurement of my worth. Pic of Senior prom included sorry my eyes are closed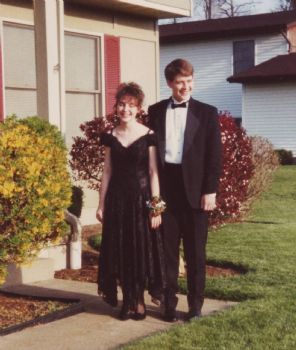 When I moved out of my parents place and into a dorm, I did not take a scale with me. That last thing I wanted to do was weigh in. Over time I did start to gain weight by the time I was pregnant with my son I weighed 151lb. my mom suggested I diet before my wedding. I looked at her like she was nuts, I was 2 mo. . pregnant , I couldn't diet now. she said " it won't hurt anything" . She did not go dress shopping with me, I took a friend who was the best and helped me find a dress that I liked.
Now over the years i have gained and lost alot of weight. And the scale can still make or break my whole day. Sometimes I avoid it for months, who needs the disappointment, some times I weigh my self 3 times a day, even at night so I can guess if I will weigh less tommorow morning. This relationship is not healthy. As I pull up my big girl panties and try to start being healthy again, I realized that I need a new way to measure my success. So I am limiting my self to weighing in just once a week, On Sunday. I am also going to measure myself and use this as a gauge. I will measure how I feel, and If I made good choices that day. That will be my scale. I am more than a number on a scale.
looking for a better standard, Julie.